Majority of Americans oppose fracking – poll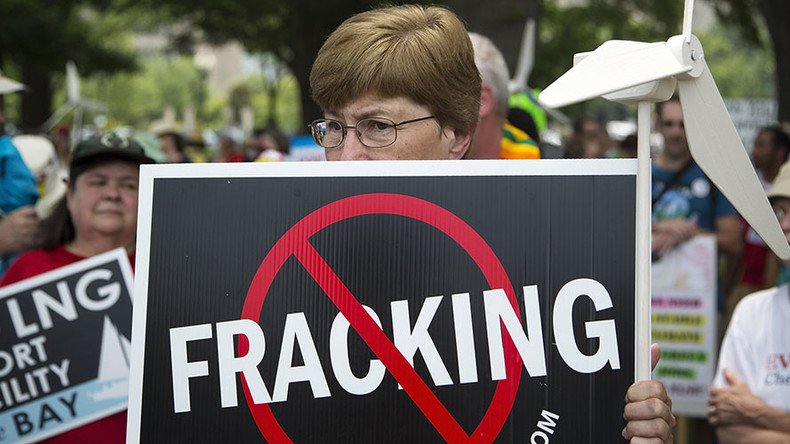 More than half of Americans are opposed to fracking in pursuit of oil and gas, according to a new Gallup poll. The results come amid mounting concerns about the links between fracking and earthquakes and groundwater pollution.
Asked whether they favored or opposed hydraulic fracturing, or fracking, as a means of increasing the production of natural gas or oil in the US, 36 percent of respondents said they were in favor, while 51 percent said they were opposed and 13 percent had no opinion, according to the new Gallup poll released on Wednesday.
That is an 11 point increase in opposition since last year. Answering the same question in 2015, 40 percent of Americans were in favor and 40 percent were opposed, while 19 percent had no opinion. The poll was conducted between March 2 and March 6.
Noting the six point decrease in Americans who had no opinion of the technology, Gallup noted that that could partially account for the rise in opposition to fracking, as a result of the term becoming "more commonplace in the culture, or as the media has more extensively covered the arguments for and against fracking."
Increased opposition could also come from the low oil prices, greater energy independence, and a turn towards alternative, sustainable energy sources, Gallup noted.
"Americans' turn against fracking comes as the percentage predicting there will be a critical energy shortage in the next five years has fallen to a new low because of lower gas prices. With oil and gas relatively cheap, many Americans may not see the need to fracture the earth through fracking," said the polling agency.
The poll also found that Republicans are not as supportive of fracking in 2016, with only 55 percent in favor compared to 66 percent last year. There was not as much change among the Democrats, with 25 percent in favor this year compared to 26 percent in 2015.
Fracking has become a contentious topic in American life. The method has provided great opportunities for the nation's crude oil producers, with half of US oil production currently acquired through fracking compared to just 2 percent in 2000. US reliance on domestic supply, however, has caused a global tug of war with Saudi Arabia, which has been driving down the price of oil to try and make fracking too expensive in the US. A number of US companies have folded as the oil prices bottomed out.
Environmentalists blame fracking for earthquakes across sections of the country which are typically tremor-free. Last year there were more than 1,000 earthquakes in central US. This week, the US Geological Survey said 7 million Americans are at risk of experiencing earthquakes caused by fracking in the states of Oklahoma, Kansas, Texas, Colorado, New Mexico and Arkansas. The same survey said the state of Oklahoma had a one in eight chance of experiencing earthquakes surpassing the state of California. There are 4,500 oil and gas wells in Oklahoma, and 3,200 are operational daily.
"Induced quakes have become more frequent because there's more wastewater from oil and gas operations around the country that has to be disposed of," Mark Peterson, seismic hazard expert at USGS, told National Public Radio. "Companies pump it down into underground well, and sometimes that water raises pressure on underground faults that then slip and cause small quakes."
It is not just the threat earthquakes that has people in opposition to the method but also pollution to groundwater. Earlier this month a federal jury ordered Cabot Oil & Gas to pay more than $4.24 million in damages to two families in Dimock, Pennsylvania, who claimed the company's fracking operations contaminated their groundwater with methane.
The verdict comes at the end of a long-running federal case that pitted Dimock homeowners against Cabot, one of the largest gas drillers in Pennsylvania. State regulators blamed faulty gas wells drilled by the company for leaking combustible methane into Dimock's groundwater. The company argued the methane was occurring naturally.
More than 40 families have sued Cabot since they began fracking to extract natural gas from underground shale formations near Dimock in 2008. Most of the families settled with the company in 2012. The plight of families in Dimock was featured in Gasland, the Emmy-winning 2010 documentary by Josh Fox.
You can share this story on social media: