Florida woman comes face-to-face with rare panther on nature trail (VIDEO)
Published time: 30 Mar, 2016 22:54
Edited time: 31 Mar, 2016 10:36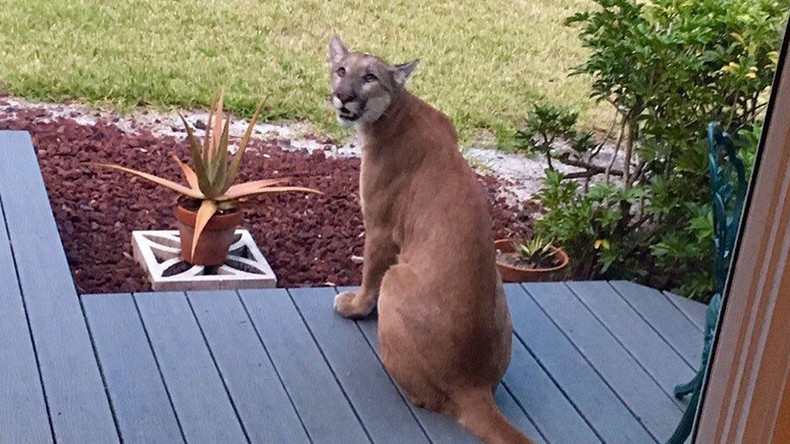 A woman in Florida had a rare and amazing close encounter with one of the most endangered mammals on the planet ‒ a Florida panther ‒ while out on an early morning stroll.
There are fewer than 100 such big cats left in the wild, according to conservationists at the National Wildlife Federation.
The species of cougar has never attacked a human in the state of Florida, but that doesn't mean that meeting the animal, which can reach 7 feet long and feasts on deer, is not a terrifying experience.
Tina Dorschel was exploring the sights at the Corkscrew Swamp Sanctuary when she inadvertently found herself on the same nature path as the razor-toothed cat.
Stopping dead in her tracks, Dorschel can be heard on camera repeatedly saying "oh my God," as she no doubt wonders whether the large cougar will launch an attack, swiping with its beastly claws.
However, the animal appears unused to human contact and runs off at pace past the startled hiker.
Taking to her Facebook page, Dorschel explained how on her walk she saw an alligator, a snake and frogs before the "unexpected encounter." Be warned, Dorschel's recording of the Monday incident contains strong language.
"This gorgeous Florida panther seems to have unexpectedly found himself cornered while travelling around a corner on the boardwalk and quickly sped up to get away," the swamp owners posted on Facebook. "Panthers are shy creatures and this kind of encounter was a lucky and extremely rare experience."
Dorschel's brush with the large cat comes after a similar panther was discovered relaxing on the porch of a Lee County, Florida home on March 18.
"It stayed for about 20 minutes and laid down for a bit," Phil Hendra told the Florida Fish and Wildlife Research Institute.
"It looked at us inside the window then slowly walked away and we have not seen it since. My parents have lived here since 1988 and they may have seen a younger panther… but nothing compares to this once in a lifetime experience."