Obama grants early release to 61 prisoners convicted of drug crimes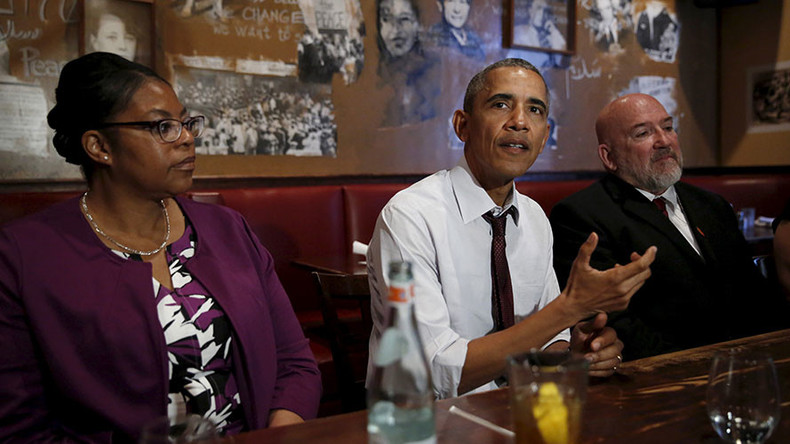 President Barack Obama commuted the sentence of 61 federal prisoners who were behind bars for nonviolent drug offenses. He also ate lunch with seven inmates who previously had their sentences cut short, holding them up as success stories.
More than a third of the individuals who were granted early release Wednesday would have otherwise served life sentences. The total number of prisoners who have had their sentences shortened by Obama now comes to 248 – more than the total commuted by the previous six presidents combined – 90 of whom would have otherwise been behind bars for life.
"Most of them are low-level drug offenders whose sentences would have been shorter if they were convicted under today's laws," Obama said in a post on his Facebook page. "I believe America is a nation of second chances, and with hard work, responsibility, and better choices, people can change their lives and contribute to our society."
To underscore his commitment to sentencing reform, Obama met for lunch with seven former inmates, whose sentences have been commuted by his administration, or those of Presidents George W. Bush and Bill Clinton.
"You've got people sitting around this table who are now attorneys themselves," Obama said of his lunch companions at the Busboys and Poets restaurant in Washington, DC. "This is an example of what we mean when we talk about second chances."
Obama has long pushed for reforms to reduce the number of people in the nation's prison system, and argued that broad reforms are needed beyond the president's initiative to grant shortened sentences. He called the current system unduly harsh, outdated, and unfair to minorities.
"I am hopeful the President will continue to mercifully grant clemency to the hundreds of others who deserve relief, like Corey Jacobs, who is serving his 16th year of a life sentence as a first-time non-violent drug offender," Brittany K. Byrd, several of whose clients previously had their sentences commuted by Obama, said Wednesday in response to the president's announcement. "Life in federal prison is a fundamental death sentence. Requiring hundreds of people like Corey Jacobs to die in prison for non-violent drug offenses is an utter waste of human life and taxpayer dollars."
Administration officials said on Wednesday that the president also wanted to focus on the rehabilitation of prisoners into functioning members of society. On Thursday, the White House will hold an event called Life after Clemency, which will act as a venue for discussion with prison reform advocates, administration officials and former inmates.