GOP strategy unwinding? Supreme Court nominee meets with first Republican senator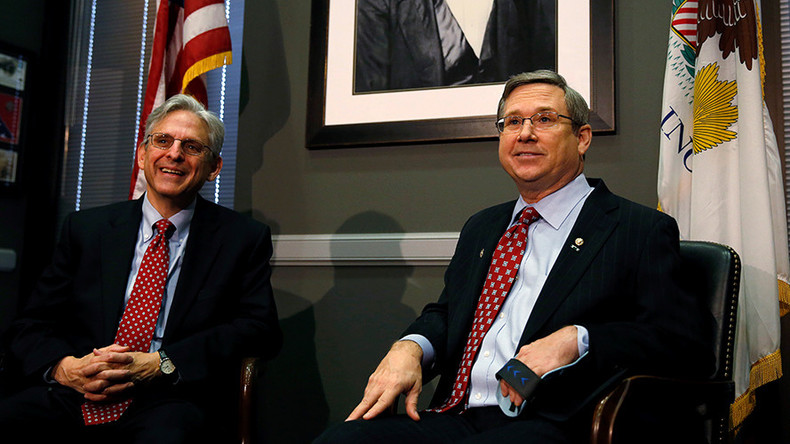 The hard stance taken by Republican leaders in Congress against the appointment of a new Supreme Court justice may be too top-heavy to sustain. One GOP senator has met Merrick Garland, President Obama's nominee, and isn't expected to be the last.
Sen. Mark Kirk (Illinois) became the first of his Republican colleagues to sit down with Garland on Tuesday. Their 20-minute meeting was followed by sharp criticism from Kirk, not for Obama's moderately liberal choice to replace the late Justice Antonin Scalia, but rather for his own superiors in the Senate.
"I think when you just say I'm not going to meet with him and all, that's too closed-minded," Kirk told reporters.
Senate Majority Leader Mitch McConnell has, since Scalia died, vowed not to take any steps towards filling the empty Supreme Court bench seat until the next president nominates someone in early 2017. No votes, no hearings, and no meetings.
"By leading by example, I'm showing what a rational, responsible guy would do that really wants the constitutional process to go forward," Kirk added.
Kirk isn't alone in breaking with Sen. McConnell's strategy, although backdropping the reasons he and other Republican senators give are some political realities that cannot be ignored.
Kirk is running for reelection in a majority Democratic state, so bucking the GOP on this issue seems to be a part of that. The nominee, Garland, who is now the chief judge of the US Court of Appeals for the District of Columbia Circuit, is from Chicago.
Sen. Kelly Ayotte of New Hampshire and Sen. Jerry Moran of Kansas are two other Republicans up for re-election who say they would like to meet with Garland and urge their fellow senators to hold a hearing.
Another Republican senator up for re-election is the more conservative Chuck Grassley of Iowa, who was featured in a front page story in the Des Moines Register on Monday, covering his seemingly reluctantly-held campaign stops, which were unannounced and held in the more conservative parts of the state. Sen. Grassley reportedly faced "tough and repeated questions over his refusal to hold hearings," but he is keeping in line with McConnell's strategy for now.
Sen. Susan Collins of Maine isn't up for reelection, but as one of the loudest Republican voices in favor of moving forward with the process of considering Garland, she could be part of a rising tide against the GOP leadership on the matter.
In a recent interview, Collins said there was "no basis" for McConnell's stance, which she said "perplexed" her.
"If the next president is a Democrat, then the balance could be tipped way further than Judge Garland," Collins told local WGAN radio, adding, "If the nominee is Mr. Trump, and he becomes the next president, who knows who his nominee would be. He's rather unpredictable."