Breaking dumb: Texas cops arrest woman who fell for joke about Ebola-tainted meth
Published time: 28 Mar, 2016 21:24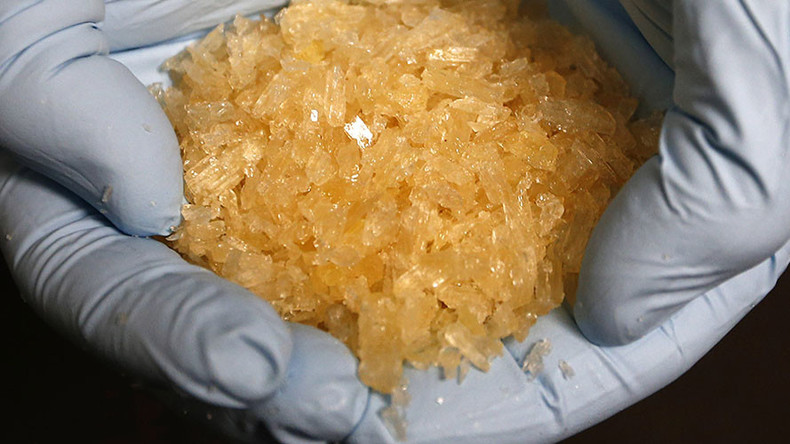 Police in Central Texas arrested a woman after she responded to a hoax Facebook post that warned of Ebola-tainted drugs, bringing her methamphetamine to the police station for testing.
The police department of Granite Shoals, Texas issued a fake "breaking news" alert on Facebook last week, which claimed that methamphetamine and heroine in Central Texas could be contaminated with Ebola, a life-threatening disease.
Two days later, Granite Shoals Police made another post, saying that a "concerned citizen" brought her drugs to the police station for testing by officers. The woman, identified by as 29-year-old Chastity Eugina Hopson, was arrested and charged with possession of a controlled substance.
The officers said that the original post was meant to be humorous, but described Hopson as "the winner of the Facebook post challenge."
After some Facebook users accused the officers of being unprofessional, a third post was made railing against the media for being "anti-police" and arguing that expressing humor is as important for police as it is for anyone else.
"So we at the GSPD like to show all parts of the enforcement world on Facebook and that includes our sense of humor. To quote Jimmy Buffet [sic], Changes in Latitudes Changes in Attitude, 'If we couldn't laugh, we would all go insane.' Look for more posts to come that include suspects we are seeking information on, safety updates, interactions with citizens, In The Line of Duty Deaths, and things that make us laugh. I hope this will allow you to see who we are, humans, just like you. We have families, friends, lives, laugh, cry, and bleed all the same," the police department wrote.
The credulous winner of the "challenge" is currently being held in a Burnet County on a $5,000 bond.