When it rains, it pours: El Niño fills keystone CA reservoir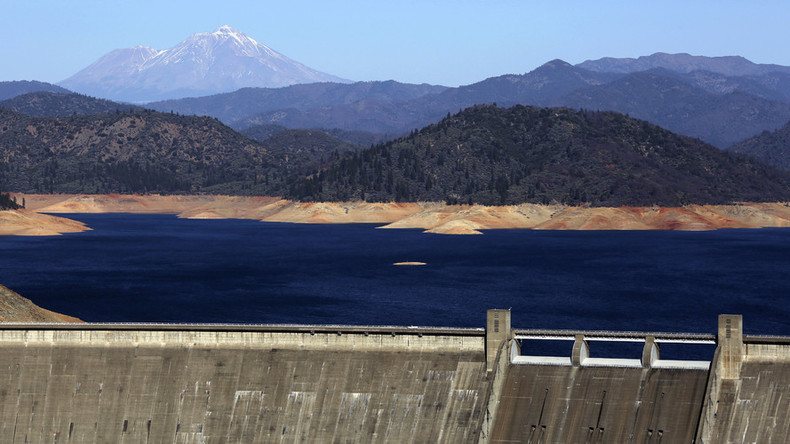 California is still in a drought, but the state's largest reservoir is giving the opposite impression. Lake Shasta was so full its water had to be released into the Sacramento River by the Federal Bureau of Reclamation at the most rapid rate since 2011.
The FBR normally releases 5,000 cubic feet per second from Lake Shasta, according to the Los Angeles Times reported. However, following mid-March storms the reservoir's water had to be released at a rate of up to 20,000 cubic feet per second.
This could be good news for California, as Lake Shasta is the state's largest reservoir and a key source of water for the Golden State. The lake is also important to crop growers who depend on the Central Valley project reservoirs.
Although California's drought is far from over, it is improving thanks to the ocean-warming weather patterns of El Niño. Reuters reported on Thursday that California's drought had gone from affecting 93 percent of the state down to 73 percent, thanks to the weather phenomenon.
However, four years of dry weather have done damage to sunny California. "We have added a lot of moisture and have had pretty good snows and rains in the state, but the drought has been significant enough that you're not going to reverse all those issues in a single winter," Brian Fuchs, a climatologist with the Nebraska-based Drought Mitigation Center, told Reuters.
Despite the El Niño rains, about 35 percent of the state's condition remains in the most severe category – exceptional drought.
The areas designated as suffering from exceptional drought are along the central coast and the Central Valley breadbasket. The dry years have hurt farmers, who fallowed a half-million acres (202,343 hectares) of land. Fifty-five percent of the state still remains in extreme drought, the second-highest category.
You can share this story on social media: