Riders must put diapers on horses or be ticketed in Alabama town
Published time: 25 Mar, 2016 22:16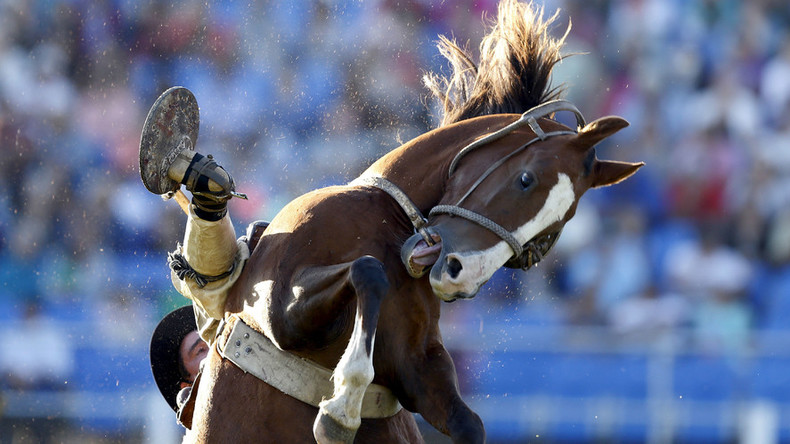 Selma, Alabama has a unique problem: horseback riders are not diapering their steeds. Despite a 2013 city ordinance requiring horses to wear diapers while on city streets, almost no one is following the rule.
Selma's Ward 8 Councilman, Michael Johnson, is especially frustrated over the issue, which he told the Selma Times-Journal is particularly bad in his ward. For him, the issue is less about the horses themselves than the public health problems that come with their poop.
"We're not saying we want to do away with the horses," he explained to the Times-Journal, "We just want the horse owners to abide by the rules."
The risks associated with horse manure can be serious. A paper from Virginia Tech claims that the average 1,000 pound (450kg) horse produces about 50 pounds (23kg) of pucky per day. Horse manure attracts flies and mosquitos, and can contain parasites as well – not to mention the stink.
In 2013, Selma attempted to get a handle on the manure issue by requiring all horses being ridden or walked on city streets to wear diapers, but all but one rider has ignored the rule since then. "Most of the time, they take a chance and hope they don't get caught," Johnson told the Times-Journal.
John Brock, Selma's chief of police, told the Times-Journal that his officers give warnings to first time offenders and citations to repeat offenders. Both Johnson and Brock said there are two places in town where riders can buy horse diapers.
Overall, Johnson hopes that this issue can be put to rest.
"I'm tired of it because there's other things I could be doing than dealing with horses," he said.