Clinton tells Europe to share US' 'burden' in fight against ISIS, set unified borders
Published time: 24 Mar, 2016 05:13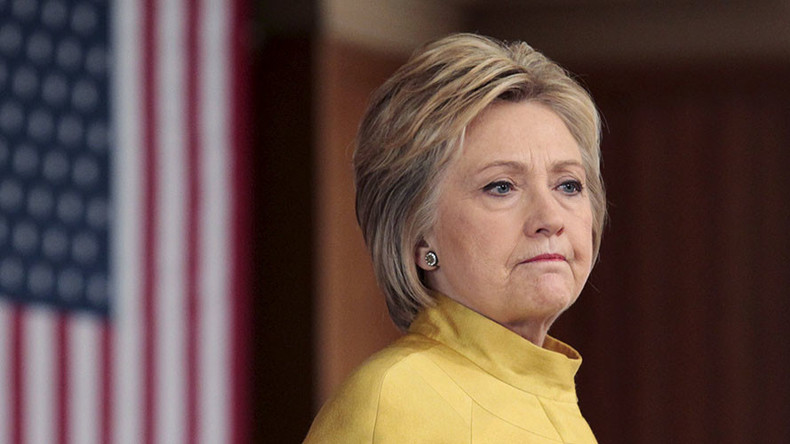 Hillary Clinton has criticized Europe for its lagging security strategy, urging it to share the US' "burden" in fighting global terror by creating a "new unified European border" that would facilitate improved intelligence and cross-border communication.
Praising the US' counterterrorism efforts, Clinton said "there is much we can do to support our European partners," but added "there is also more they can do to share the burden with us."
Saying that the recent terror attacks in Brussels had exposed the need for Europe to take a "hard look at security protocols" in public places, the Democratic presidential front-runner specifically focused on two other steps that she believes the EU needs to take.
"The most urgent task is stopping the flow of foreign fighters to and from the Middle East," Clinton said in a 30-minute speech focused on terrorism at Stanford University on Wednesday. Referring to "young recruits" possessing dual French, British, German, or Belgian citizenship, she suggested carrying out a major overhaul of intelligence and passport control procedures.
"Their European passports make it easier for them to cross borders and eventually return home, radicalized and battle-hardened. We need to have an identity of every fighter who makes that trip and start revoking passports and visas," Clinton said.
In this regard, Clinton brought up "a new unified European border and Coast Guard," which would help strengthen Europe's external borders amid "unprecedented pressure from refugees," saying "it's time to make good on the promise."
In September of 2015, European Commission President Jean-Claude Juncker proposed establishing a European Border and Coast Guard to "exercise day-to-day border management."
The former secretary of state also chastised European states for lack of coordination and mutual transparency.
"Right now, many European nations don't even alert each other when they turn away a suspected jihadist at the border or when a passport is stolen," Clinton said, stressing that, despite the reforms announced following the Paris attacks, "intelligence cooperation still lags."
"It's actually easier for the United States to get flight manifests from EU nations than it is for EU nations to get them from their own neighbors, thanks to an agreement that the United States negotiated when I was secretary of state," she pointed out.
Defense Secretary Ash Carter also called on Europe to join the US in ramping up its campaign against Islamic State (IS, formerly ISIS/ISIL) on Wednesday.
"The thing that I think the Brussels event is going to further signify to Europeans is that they – as we have been accelerating our campaign to defeat ISIL in Syria in Iraq and elsewhere – they need to accelerate their efforts and join us," Carter told CNN.
Carter's comments on the extent of the terrorists' reach appeared to mirror Clinton's.
"It is not enough that we defeat them in Iraq and Syria. What Brussels tell us is that they have sympathizers, people who are Belgians or French, who live there already," he said. "Therefore an important part of the fight is also going to be a homeland security, intelligence and law enforcement fight."
Belgium has faced thin criticism from some anonymous US officials over their failure to foil the deadly attacks at Brussels' airport and metro that claimed more than 30 lives and injured over 250.
"Belgium has been stepping up the amount of people they're devoting to intelligence and law enforcement but they're playing catch-up and we're seeing the terrible results of that today," Representative Adam Schiff, the senior Democrat on the House Permanent Select Committee on Intelligence, said on MSNBC.
Another senior US intelligence officer likened the Belgian security forces to "children," telling The Daily Beast that they practiced "really shitty tradecraft."