Sandra Bland's arresting officer pleads not guilty to misdemeanor perjury charge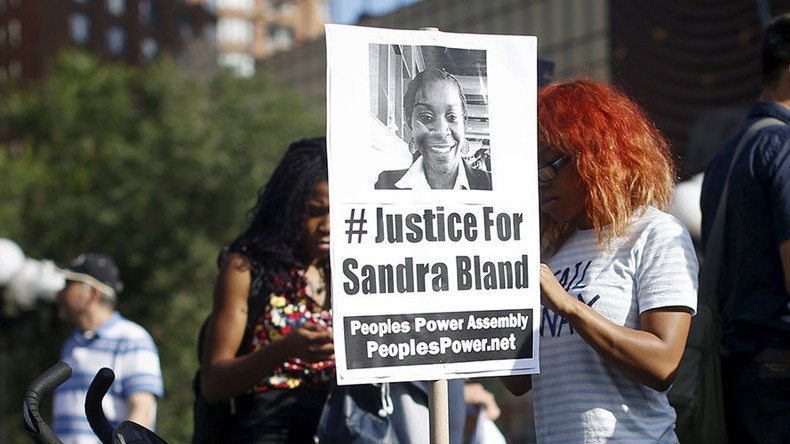 Brian Encinia, who was fired from his Texas state trooper job over the arrest of Sandra Bland last year, pleaded not guilty to a perjury charge that his defense attorney chalked up to "a fundamental misunderstanding of law enforcement procedures."
The plea was entered on Tuesday in a Waller County courtroom in Hempstead, Texas, about 7 miles from where Sandra Bland was first arrested by then-trooper Encinia on July 10 of last year. The state's Department of Public Safety fired Encinia earlier this month.
Outside the courthouse, a group of about 20 protesters chanted "Tell the truth" and "Sandra still speaks," while some held up signs, one of which read, "What happened to Sandra Bland?" according to the Associated Press.
The source of Encinia's grand jury indictment in January was an affidavit he had submitted under oath to the court that said he had taken Sandra Bland out of her car because she was being combative and he wanted to cool the situation. The grand jury found that to be untruthful after viewing a dashcam video footage that showed the former Texas trooper pulling out his stun gun before telling Bland, "I will light you up!"
Encinia's defense lawyer, Larkin Eakin, claimed that the grand jury's charge "represents a fundamental misunderstanding of law enforcement procedures," AP reported.
Encinia is due back in court on May 17. Perjury, a misdemeanor, is punishable by no more than one year behind bars and a $4,000 fine.
Bland's family members have filed a wrongful death lawsuit against Encinia and other officials involved in her imprisonment. Bland was found dead in her cell after she hanged herself with a plastic garbage bag three days after being detained. The clinically depressed Bland had not received her epilepsy medication, Keppra, while in jail. According to the FDA, sudden withdrawal from the drug can cause "suicidal thoughts."
You can share this story on social media: