'Near-term attacks': State Dept. issues Europe-wide travel alert as US ramps up security at home
Published time: 23 Mar, 2016 03:56
Edited time: 23 Mar, 2016 08:00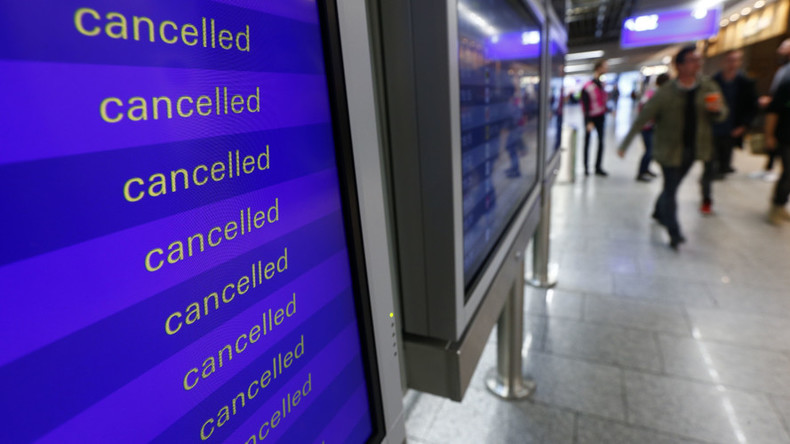 Citing risks of "near-term" terrorist attacks, the US has warned Americans against traveling anywhere in Europe and boosted security at home since twin blasts in Brussels left 31 dead and over 250 wounded, including several US citizens.
Follow RT's LIVE UPDATES on Brussels bombings
"Terrorist groups continue to plan near-term attacks throughout Europe, targeting sporting events, tourist sites, restaurants and transportation," the State Department said in a statement.
The Department has urged its citizens to be attentive and cautious when in crowded places or using public transportation, and to be especially vigilant while attending religious holidays, festivals, and similar events that attract large numbers of people.
"We work closely with our allies and will continue to share information with our European partners that will help identify and counter terrorist threats," the department said.
The new travel alert, which extends to all countries "throughout Europe," will stay in effect for the next 90 days – until June 20.
The US issued a "Crisis in Belgium" guide following the terror attacks, calling on its citizens to shelter in places and "take the appropriate steps to bolster your personal security."
US media reported earlier that at least nine Americans had been among the over 230 injured in Tuesday's attacks, including three Utah Mormon missionaries and an Air Force member and his family.
The State Department could not immediately confirm that information, however, though it admitted that it was aware that US citizens had been among those wounded.
"I'm going to avoid giving a specific number," spokesman John Kirby told an AP reporter. "It would be irresponsible for me to give out a number now when the numbers are actually changing literally by the hour," he said, adding that he would leave it to "the medical people" to "patch these folks up."
Kirby was also reluctant to comment on allegedly hurt Mormon missionaries, saying that he "can't confirm specific individuals."
When asked whether any American tourists had been hospitalized, Kirby replied that he "honestly" didn't know.
In the meantime, the FBI and New York police officers are sending a team to Brussels to investigate the explosions, John Miller, New York deputy police commissioner for intelligence and counterterrorism, told reporters earlier on Tuesday.
"Because there are Americans among the casualties and US persons in the attack in Belgium, there will be an FBI investigation coming out of the New York City Joint Terrorism Task Force," Miller told the media. "We expect agents and New York City detectives, or Task Force officers, to be gearing up to leave for that investigation overseas as early as tonight or tomorrow."
'Public safety is paramount'
US cities and airports have stepped up security and surveillance in the wake of the attacks in Belgium.
Police presence has been ramped up at all three of New York City's major air hubs – John F. Kennedy International, Newark Liberty, and LaGuardia.
"NYPD is on increased alert across our city. While we take this threat seriously, we will not live in fear. Our lives will continue today in honor of those lost to terrorism," New York City Mayor Bill De Blasio said. "Securing New York City is our show of solidarity with the people of Brussels and the victims of terrorism worldwide."
New York State governor Andrew Cuomo directed law enforcement officials to step up security at high-profile locations around the state, including bridges and tunnels, stressing that "public safety is paramount."
While security has been tightened, New York Police Department spokesman J. Peter Donald said that "there is no known indication that the attack has any nexus to New York City."
Metro Transit Police officers in Washington, DC began performing additional K9 sweeps and patrols following news of the deadly blasts in Belgium.
The Metropolitan Washington Airports Authority said that robust security, both visible and behind-the-scenes, is currently in place.
Elsewhere in the US, security measures have been stepped up in Atlanta, Boston, Chicago, Denver, Los Angeles, Miami, and Philadelphia in order to prevent Brussels-like attacks.
"Security has been strengthened for our public transit systems and airports, and law enforcement teams will remain vigilant to ensure the safety of our citizens," Massachusetts Governor Charlie Baker said.