New US commander in Afghanistan apologizes for Kunduz hospital bombing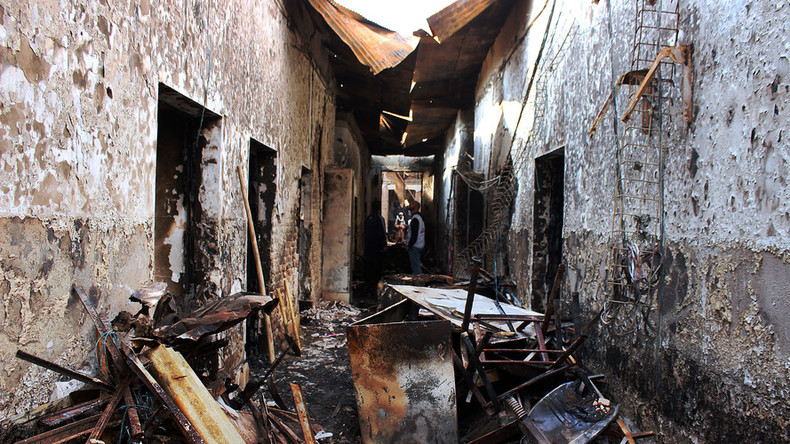 In a bid to rebuild trust, the new commander of US and NATO forces in Afghanistan visited Kunduz to apologize for last year's hospital bombing, which killed 42 people and injured 37. Doctors Without Borders has called for a war-crimes probe.
"As commander, I wanted to come to Kunduz personally and stand before the families, and people of Kunduz, to deeply apologize for the events which destroyed the hospital and caused the deaths of the hospital staff, patients and family members," said General John W. Nicholson. "I grieve with you for your loss and suffering; and humbly and respectfully ask for your forgiveness."
Nicholson, an Airborne Ranger and former Army Chief of Staff, assumed command over US forces in Afghanistan (USFOR-A) and the NATO Resolute Support Mission at the beginning of March, taking over from General John F. Campbell.
On October 3 of last year, an American AC-130 Spectre gunship opened fire on the trauma center operated by Doctors Without Borders (Medecins Sans Frontieres, MSF) in Kunduz. At the time, US forces and the Afghan military were battling Taliban militants who had briefly seized portions of the city just south of Afghanistan's border with Tajikistan.
The gunship made several passes, firing 211 shells at the compound over the course of 29 minutes, before the attack was called off. MSF said their staffers called NATO headquarters in Afghanistan right away, asking for the assault to be stopped.
A preliminary investigation by the charity found that some victims – both doctors and their patients – had burned to death in their beds, while others had been decapitated, dismembered by shrapnel, or shot from the air while trying to flee. The final death toll reached 42, according to MSF.
In its official response, Washington swung from "not knowing for certain" if a hospital had been struck, to saying it may have been a mistake while US forces were "taking fire in Kunduz," ultimately shifting responsibility onto the Afghan government, which they claimed had requesting the bombardment.
However, documents uncovered by AP show that the hospital was deliberately targeted because US forces suspected that it was being used by the Taliban – a claim MSF vehemently refutes.
By the end of November, the US issued an official report, describing the attack as a "direct result of avoidable human error, compounded by process and equipment failures." The Pentagon confirmed last week that 12 service members had received "administrative punishments" related to the attack, but no criminal charges were filed.
MSF maintains that the attack was deliberate, and has called for a war-crimes probe into the incident.
Nicholson, who previously spent close to four years in Afghanistan between 2006 and 2012, is seeking to reassure Afghan authorities of US support as they continue to struggle with Taliban insurgents once thought to have been defeated for good.
He was accompanied to Kunduz by his wife, security analyst Norine MacDonald, as well as acting Afghan Defense Minister Mohammad Masoom Stanekzai and acting Interior Minister Taj Mohammad Jahid, according to the New York Times.
"You may have heard that the Taliban want to take Kunduz again – they will not," Nicholson said, addressing local officials, according to Afghan news agency Khaama Press. "The Taliban want you to think that your government and the Coalition will abandon you ‒ we will not. The Taliban think that by posing threats to you, the brave people of Afghanistan, that you will surrender to them – you will not."