Denver international airport partially evacuated over 'possible security threat'
Published time: 22 Mar, 2016 21:24
Edited time: 22 Mar, 2016 23:24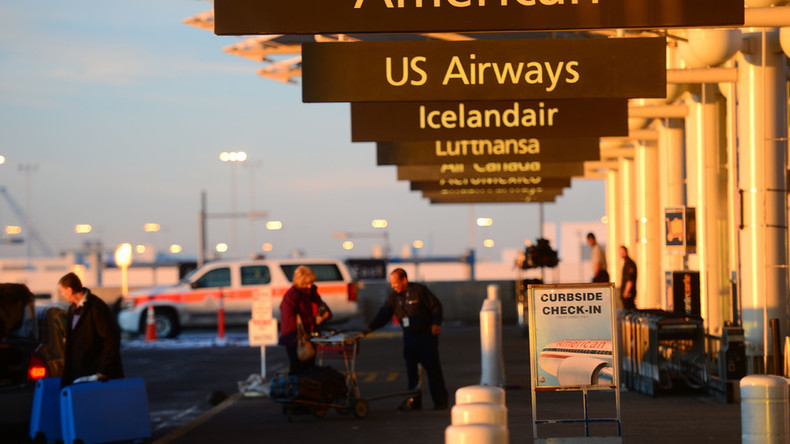 Hours after a terrorist attack at an airport in Belgium, travelers were expelled from a section of Colorado's Denver International Airport due to a "possible security threat," authorities said. While flights are not being canceled, delays are probable.
READ MORE: Brussels airport and Metro bombings LIVE UPDATES
UPDATE: At about 5:50pm local time, the Denver International Airport tweeted that it would "get back to normal shortly" after a bomb squad determined there was no threat from the suspicious package.
We thank our passengers for their patience during this investigation. Safety is our No. 1 concern. We will get back to normal shortly.

— Denver Int'l Airport (@DENAirport) March 22, 2016
Levels 5 and 6, which respectively facilitate arriving and departing travelers, from doors 500-510 and 600-610 have been evacuated by Denver Police, according to the airport's Twitter feed.
DPD is evacuating a section of the main terminal on the west side between doors 600 and 610 to investigate a possible security threat

— Denver Int'l Airport (@DENAirport) March 22, 2016
K-9 police dogs signaled for positive detections of suspicious material in a package, prompting alerts to go out to the Federal Aviation Administration and the Transportation Security Administration. The package was at a ticket counter at an outside check-in kiosk, ABC News reported.
"Unattended boxes" left by a counter "got a hit" from K9 dogs, according to NBC reporter Dan Linden, who tweeted: "Bomb squad responding," citing an FBI source.
American Airlines, Aero Mexico, Air Canada, Lufthansa and British Airways operate in that space. Because the ticket counters in that area are affected by the evacuation, the airport warned that flights on those airlines might be affected.
Level 5 baggage claim/west side is currently closed. Airlines are working to coordinate baggage delivery to east side.

— Denver Int'l Airport (@DENAirport) March 22, 2016
Both vehicle and pedestrian traffic are being rerouted from the west end of the main terminal.
No vehicle traffic is being allowed on the west side of the terminal. East side remains open to passengers.

— Denver Int'l Airport (@DENAirport) March 22, 2016
A Vietnamese person is claiming the suspicious boxes are his, KDVR reporter Heidi Hemmat tweeted.