'Dismantle the disastrous deal': Trump tells AIPAC Iran deal is 'number one priority'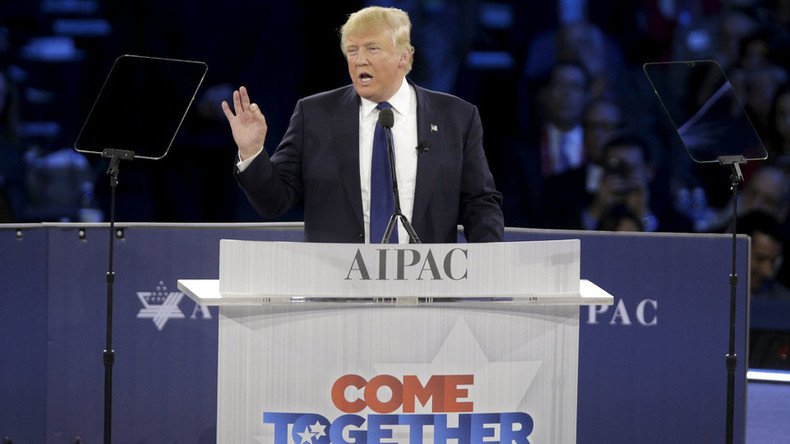 Republican presidential front-runner Donald Trump told attendees at the American Israel Public Affairs Committee conference that he didn't come to pander, saying "that's what politicians do," but he did make a promise related to the Iran nuclear deal.
"My number one priority is to dismantle the disastrous deal with Iran," Trump said, speaking before AIPAC in Washington, DC on Monday evening. "I have been in business a long time…this deal is catastrophic for Israel – for America, for the whole of the Middle East… We have rewarded the world's leading state sponsor of terror with $ 150 billion and we received absolutely nothing in return."
Trump criticized the deal for not requiring Iran to dismantle its military nuclear capability and only limiting its nuclear program for a certain number of years. He chastised Iran for contributing to problems in Gaza, Syria, Lebanon, Yemen, and Saudi Arabia by providing weapons and money.
"Iran is financing military forces throughout the Middle East and it is absolutely indefensible that we handed them over $150 billion to facilitate even more acts of terror," added Trump. "During the last five years, Iran has perpetrated terror attacks in 25 different countries on five continents. They've got terror cells everywhere, including in the western hemisphere very close to home. Iran is the biggest sponsor of terrorism around the world and we will work to dismantle that reach."
He then slammed the United Nations, decrying it for its utter weakness and incompetence and arguing that it was "not a friend" of democracy, freedom, the United States, or Israel, while also vowing to veto any attempt by the UN to impose its will on the Jewish state.
"With President Obama in his final year, discussions have been swirling about an attempt to bring a Security Council resolution on the terms of an eventual agreement between Israel and Palestine," Trump said. "Let me be clear: An agreement imposed by the UN would be a total and complete disaster. The United States must oppose this resolution and use the power of our veto. Why? Because that's now how you make a deal. Deals are made when parties come to the table and negotiate."
Trump was clear on moving the embassy in Israel, devoted bulk of speech to dismantling Iran deal, touched on expected notes for Aipac crowd

— Maggie Haberman (@maggieNYT) March 21, 2016
Other Republican presidential candidates spoke before and after Trump at AIPAC.
Ohio Governor John Kasich stressed his experience in foreign policy.
"I don't need on the job training," Kasich told the audience on Monday, explaining he already knows about the dangers facing the US and its allies. He stressed his "firm and unwavering" support for Israel and vowed to work to stamp out intolerance, racism, and anti-Semitism.
Kasich called for the suspension of the Iran nuclear deal in response to recent ballistic missile tests, which he said were a violation.
"We are Americans before we are Republicans and Democrats," he said, adding, "I will not take the low road to the highest office in the land."
Texas Senator Ted Cruz also spoke at AIPAC after Trump. He attacked the billionaire businessman for promising to be "neutral" in brokering a peace deal between Israel and the Palestinians.
"As president, I will not be neutral," said Cruz. He added, "America will stand unapologetically with the nation of Israel."
Anti-Trump protesters gathered outside the venue to voice their anger over Trump's brash political rhetoric and his attendance at the conference.
The leader of one of Washington's most prominent synagogues said that he felt compelled to denounce Trump as he spoke at a conference of Israeli activists.
Rabbi Shmuel Herzfeld of the Ohev Sholom congregation wept as he described to reporters the importance of standing up to what he viewed as Trump's hatred, describing him as "wicked."
"This man is inspiring violence," Herzfeld said, according to the Associated Press. "He is an existential threat to our country."
"This man is wicked," Herzfeld added, referring to Trump. "He inspires racists and bigots. He encourages violence. Do not listen to him."
You can share this story on social media: