'Non-negotiable': Clinton attacks Trump at AIPAC for 'neutrality' remarks about Israel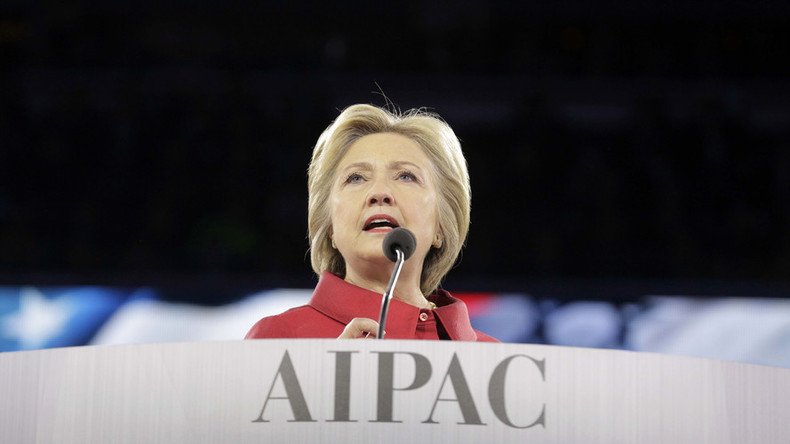 In a speech to the annual policy conference of the American Israel Public Affairs Committee, Democratic front-runner Hillary Clinton took Republican front-runner Donald Trump to task for voicing a "neutral" position on Israeli-Palestinian talks.
"We need steady hands," Hillary Clinton, a former secretary of state, told thousands of attendees at the AIPAC conference in Washington, DC on Monday. "Not a president who says he's neutral on Monday, pro-Israel on Tuesday, and who-knows-what on Wednesday, because everything's negotiable.
Israel's security, she proclaimed to loud applause, "is non-negotiable."
Clinton's criticism of Trump, while not naming him directly, stemmed from remarks he made during a CNN-hosted Republican debate on February 26, when all of the candidates were asked about their stances on Israel and a peace agreement between the Jewish State and Palestine.
Trump said he supported Israel but added, "As president there is nothing I wouldn't do to bring peace to Israel and its neighbors. It is probably the toughest negotiation in the world. I am pro-Israel. It doesn't do any good to take sides against the neighbors," said Trump. "If I could bring peace it would be one of my greatest achievements."
Clinton told AIPAC about her long ties to Israel, having first visited the country 35 years ago. Then she moved on to highlight her work as a New York senator and as secretary of state, all of which led to a "deepening and strengthening the US ties to Israel" and supporting a "secure and democratic homeland for the Jewish people," according to Clinton.
The Democratic presidential hopeful said the US couldn't be neutral when "rockets rain down on residential neighborhoods, when civilians are stabbed in the street, when suicide bombers target the innocent. Some things aren't negotiable, and anyone who doesn't understand that has no business being our president."
A new president from day one, Clinton told conference goers, will immediately face a world of "both perils and opportunities."
"The next president… [will] start making decisions that will affect the lives and livelihoods of Americans and the security of our friends around the world, so we have to get this right," Clinton said.
"Candidates for president who think the United States can outsource Middle East security to dictators, or that America no longer has vital, national interests at stake in this region are dangerously wrong," said Clinton. "It would be a serious mistake for the United States to abandon our responsibilities or cede the mantel of leadership for global peace and security to anyone else."
Clinton pointed to three evolving threats in the Middle East: "Iran's continued aggression, a rising tide of extremism across a wide arc of instability, and the growing effort to de-legitimize Israel on the world stage," which she noted make the "US-Israel alliance more indispensable than ever."
"We have to combat these trends with even more security and diplomacy," said Clinton.
While Trump was due to address AIPAC later on Monday, Clinton also referred to his proposal to temporarily ban all foreign Muslims from entering the US and "playing coy with white supremacists."
"We've had dark chapters in our history before," Clinton said, pointing to America's refusal to allow a ship packed with Jewish refugees to dock in the US in 1939.
"But America should be better than this, and I believe it's our responsibility as citizens to say so. If you see bigotry, oppose it. If you see violence, condemn it. If you see a bully, stand up to him," Clinton said, receiving a standing ovation from the group.
AIPAC bills itself as nonpartisan and has never endorsed a candidate, but the organization does play a big role in partisan political debates over issues of interest to Israel.
A group of rabbis and other pro-Israel leaders were planning to protest Trump's speech. Clinton's comments were well-received, as the audience of Israel supporters loudly cheered throughout her address, not just when she was taking swipes at Trump.
You can share this story on social media: