Jewish leaders rally against Trump's 'hate' speech at AIPAC conference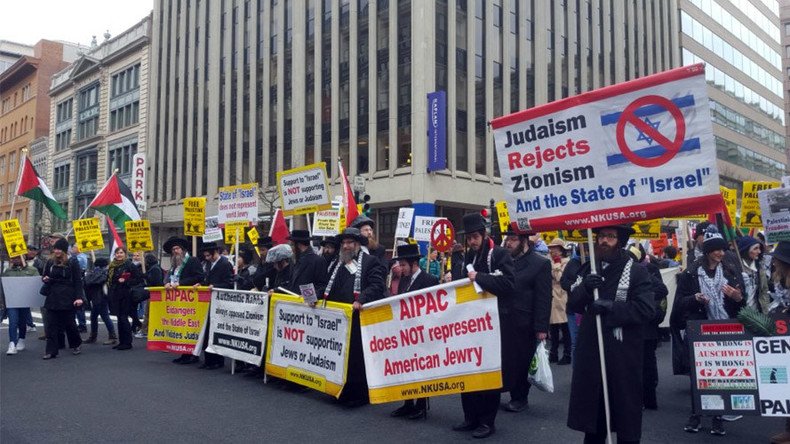 Hundreds of people have taken to the streets of Washington, DC to demonstrate against an upcoming speech by Republican front-runner Donald Trump, who will address the American Israel Public Affairs Committee (AIPAC) conference on Monday night.
Two rabbis behind the protest, David Paskin and Jesse Olitzky, have called it "Come Together Against Hate", while the conference's motto is "Come Together."
"We denounce in the strongest possible terms the bigotry, racism, xenophobia, and misogyny expressed by Mr. Trump, and violence promoted by him, at various points throughout his campaign. We refuse to stand idly by and let his hateful message become a part of the AIPAC Policy Conference," the rabbis wrote in a press release posted on a specially created website.
The people marching along Washington's streets carried banners with various slogans, calling to "Boycott Israel,""Free Palestine,""Stop Genocide of Palestine" and others.
Some other placards read "End AIPAC", though the protest organizers have stressed that the action is not "about policies" or "about parties," but is aimed at boycotting one person – Donald Trump.
"We are against the hatred, the incitement of hatred, the ugliness that has engulfed this political season," the rabbis said.
There were also a number of other groups that spoke of boycotting Trump's speech, however, their plans to protest were not officially confirmed.
AIPAC is a lobbying group encouraging Americans to strengthen US-Israel relations. The upcoming conference is the largest pro-Israel event of the year attended by many politicians.
Trump, a candidate for Republican nomination for presidency, has been making controversial statements critical of Muslims, Mexicans and other groups.
You can share this story on social media: