New Jersey bill could criminalize texting while walking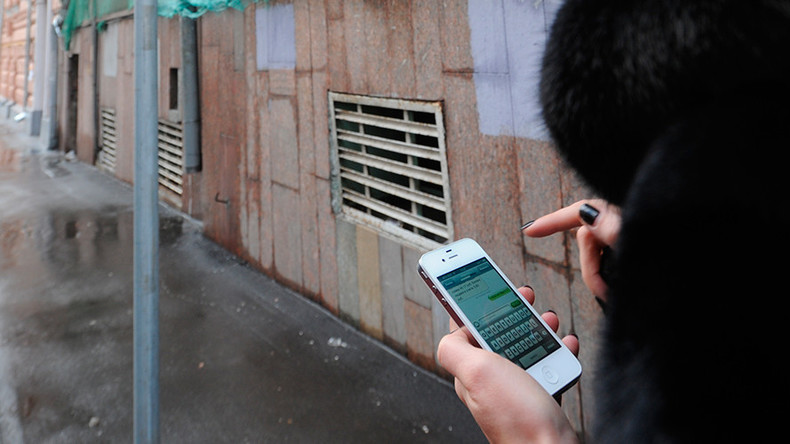 Using your cellphone while crossing a street could become illegal in New Jersey, US, with violators facing either a $50 fine or a 15 days incarceration, thanks to one enthusiastic lawmaker.
"If a person on the road – whether walking or driving – presents a risk to others on the road, there should be a law in place to dissuade and penalize risky behavior," Pamela Lampitt, Democratic Assemblywoman, who sponsored the bill – which was introduced on Monday – told local media.
She claims that with more people becoming distracted by their evolving gadgets, laws managing their use have to follow.
"Distracted pedestrians, like distracted drivers, present a potential danger to themselves and drivers on the road. A pedestrian distracted by their device and unaware of oncoming traffic may cause unsuspecting drivers to brake suddenly or swerve out of the way, creating a potentially deadly situation," Lampitt is quoted as saying.
READ MORE: Cellphones and raised speed limits stand behind sharp increase in traffic fatalities in US
The proposed legislation states that while crossing the road, pedestrians must join drivers in going hands free. If approved, the bill will leave those inattentive on the road having to pay up to $50 in fine or spend 15 days in jail for being, with those behaving worst facing both penalties.
The idea received a mixed reaction online, with some deeming it "dumb," while others expressed relief at the news.
@ABC7NY Love it !!! It won't be me .... But love the idea so all the people walking & crossing the street will actually see cars coming

— LiL (@Lilly5659) March 19, 2016
Since it's illegal to text while driving, why not while walking? The majority of people can't walk & text in a straight line which is unsafe

— War Nap (@War_Nap) January 7, 2016
Meanwhile, experts have been citing links between distracted walking and pedestrian injury for some time now. According to a study by Corey Basch, associate professor of public health at William Patterson University, based on observing the behavior of some 21,000 pedestrians at five busy Manhattan intersections, "it came as a surprise that there were so many pedestrians distracted by technology during the walk signal, but the fact that there were even more distracted by technology crossing on a 'don't walk' signal is astonishing. It's clearly a public health concern".
Another piece of research conducted by Harborview Injury Prevention & Research Center at the University of Washington, also joins the legislator's cry, claiming that "pedestrians who are text messaging display the highest risk of all distracted walkers, with slower crossing times and failure to display cautionary crossing behaviors."
Introduced to the New Jersey State Assembly on Monday, so far the bill has had no sponsors, while a similar law prohibiting using the phone while driving has been adopted by 46 states.
You can share this story on social media: