2 Israeli-Americans killed in Istanbul blast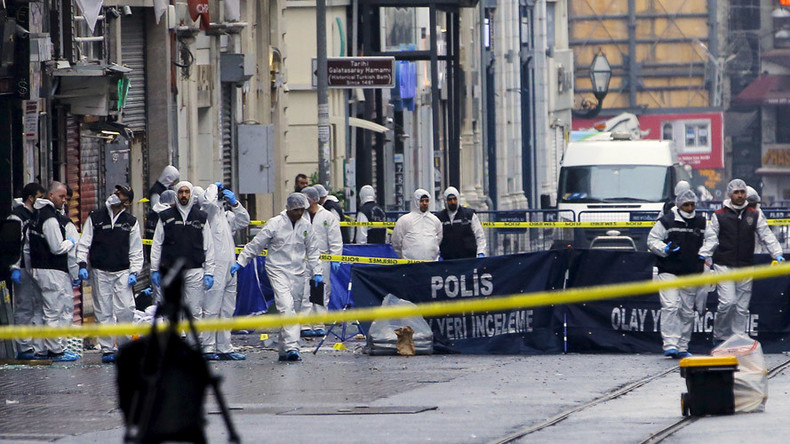 Two Americans were killed in the suicide bombing that rocked a tourist shopping street in Istanbul on Saturday and which claimed at least four lives, the White House said in a statement. According to Israel, the two victims also held Israeli passports.
"We are in close touch with Turkish authorities and reaffirm our commitment to work together with Turkey to confront the evil of terrorism," White House National Security Council spokesman Ned Price said in a statement.
The White House condemned the horrific terrorist act and expressed "steadfast" support for its NATO ally and partner.
"These repeated acts of terrorism in Turkey must come to an end," Price added.
The Israeli Foreign Ministry Spokesman Emmanuel Nahshon confirmed that two of the deceased held dual US-Israeli citizenship, following Israeli Prime Minister Benjamin Netanyahu's announcement that at least two of the blast victims had been Israelis.
"We can sadly confirm that two Israeli civilians were killed and we might have a third fatality," Netanyahu said. Israel is still trying to determine whether the attack was directed against Israelis, many of whom were among those injured.
Meanwhile Iran announced that a group of its citizens was injured as well, and an Iranian man was believed to be among the dead.
At least five people, including the attacker, were killed and at least 36 others injured after a suicide bombing rocked the pedestrian avenue lined with international stores and foreign consulates in central Istanbul.
The moment of the explosion was caught on CCTV cameras with disturbing footage showing terrified people ducking and running away following the blast.
WARNING: You may find the video below disturbing
Turkish officials have indicated there is evidence suggesting the attacker may have been from Islamic State or the PKK, as reported by Reuters. Unconfirmed reports also state Turkish police are looking at three possible male suspects, two of them being from the southern Turkish city of Gaziantep near the Syrian border.