President Trump would be a 'global risk' on par with jihadist terrorism, analysis finds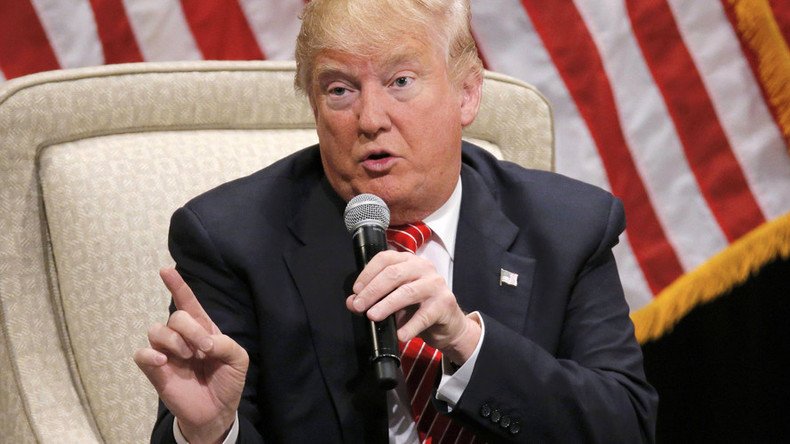 Donald Trump in the White House has been described as being on a par with the rising threat of "jihadi terrorism," according to the Economist Intelligence Unit.
In a ranking of the top ten threats to the global economy, the EIU classes the Republican hopeful if he wins the US presidential election as a "negative scenario" due to his "hostile attitude."
Although predicting Hillary Clinton as the likely winner of the election, the research firm outlines how a win for Trump, who they describe as a "political novice," could lead the US into a trade war due to his "alienation of Mexico and China," and "at the least scupper" the Trans-Pacific Partnership (TPP).
Ironically, many on the left who are opposed to Trump would also be against TPP, while his potential Democratic challenger, Hillary Clinton, supports the controversial trade deal.
If Bernie Sanders wins the Democratic nomination, both major candidates for president will be anti-TPP.
Pointing to Trump's "exceptionally right-wing stance" and "militaristic tendencies" towards the Middle East and his advocating killing families of terrorists, he is described as being "a potent recruitment tool for jihadi groups."
The EIU notes that if Trump does make it to the Oval Office, the "innate hostility" within the Republican party, combined with the "inevitable virulent Democratic opposition," would see his "more radical policies" blocked in Congress and "internal bickering" undermining the "coherence of domestic and foreign policy making."
Trump's election equates to "the rising threat of jihadi terrorism," although it is outranked by five other "negative scenarios."
Topping the list is a "hard landing" by the Chinese economy, which it sees as having a "hugely detrimental impact" on economies around the world.
A new "Cold War" between Russia and the West and a corporate debt crisis in emerging markets are on equal footing behind China, while a Greek exit from the European Union and a fracturing of the EU itself rank fourth and fifth on the list.
A "clash of arms" in the South China Sea, a Brexit, and a collapse in oil prices fill out the top ten.
You can share this story on social media: