Good news: Microsoft hired more women. Bad news: They were scantily clad 'schoolgirls'
Published time: 19 Mar, 2016 14:01
Edited time: 19 Mar, 2016 15:30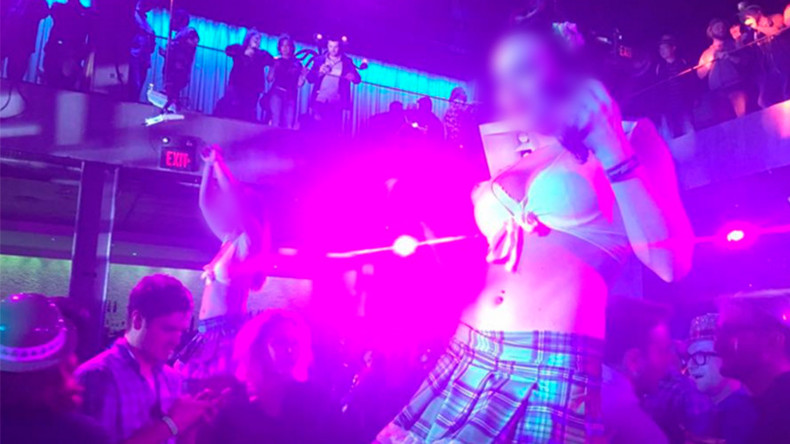 Microsoft faces the glare of women everywhere after addressing its gender hiring issues in the worst way possible by booking scantily clad "Irish Catholic schoolgirls" for its St Patrick's Day party at the Game Developers Conference in San Francisco.
The company, which on its website states the aim of "recognizing and encouraging technical women," hired the dancers for an after-party attended by mostly male professionals from the gaming industry, which is also struggling with gender equity and misogyny problems.
Pictures and videos of the event, which had proceeded a "Women in Gaming Luncheon" organized by the tech giant, showed women wearing mini-skirts and crop tops dancing on podiums.
The women were also told to "speak with attendees and encourage them to the dance floor," according to some who were present. This is apparently not a first for the company.
👎🏼Microsoft sponsors a Women in Games lunch and awards, but then has scantily clad women dancers at their GDC party. NVIDIA does similar. 👎🏼

— Lauren Clinnick✨GDC (@laurclinn) March 18, 2016
Some of those at the event took to social media to say they were "very disappointed," while others said they would be lodging complaints with Microsoft.
Making a formal complaint tomorrow. I will not stand for this. I'm trying to encourage women into the industry then this happens.

— Kamina Vincent (@spamoir) March 18, 2016
Our industry treats women terribly. And when @Microsoft has a frathouse atmosphere - it's just reinforcing some very damaging standards.

— Brianna Wu, Yeah! (@Spacekatgal) March 18, 2016
Phil Spencer, head of Microsoft's Xbox division, addressed the "unfortunate events" in a statement on the company's website, stating that it "did not reflect the core values and beliefs of Xbox" and that it was "absolutely not consistent or aligned" with the company's values.
Nothing says "We want more women in game development" like a party with female go go dancers, right @Xbox and @Microsoft?

— Laralyn McWilliams (@Laralyn) March 18, 2016
Sort of amazing how within 24 hours Microsoft hosted a women in games lunch, and hired schoolgirl dancers for a party.

— Lewie Procter (@LewieP) March 18, 2016
Microsoft used underage actresses dressed as schoolgirls in their 2012 TV ad for the Surface.