US to release secret files linked to Argentina's brutal 'Dirty War'
Published time: 19 Mar, 2016 03:56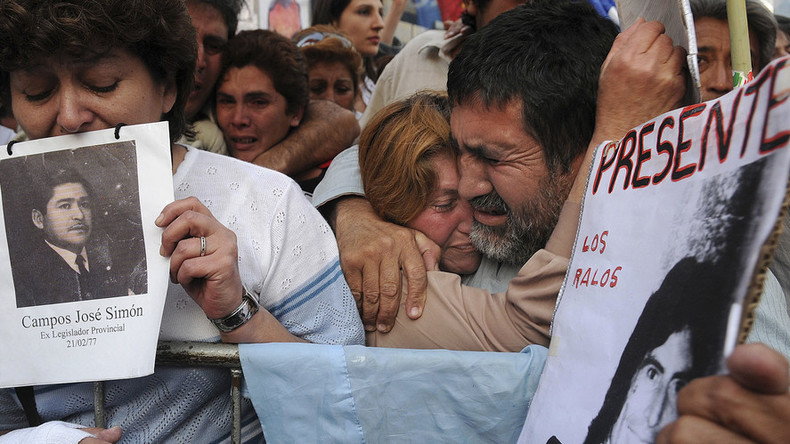 The Obama administration is set to declassify military and intelligence records related to Argentina's seven-year "Dirty War," potentially shedding light on the US role in a brutal chapter of the Latin country's history.
"President Obama, at the request of the Argentine government, will announce a comprehensive effort to declassify additional documents, including for the first time military and intelligence records," US national security adviser Susan Rice said in a speech to the Atlantic Council in Washington on Thursday.
The cache of declassified records will come from the Department of Defense, Department of State as well as from the presidential libraries at the National Archives.
President Barack Obama is scheduled to visit Argentina next week during the 40th anniversary of the 1976 coup, which led to several years of dictatorship and human rights abuse by Argentina's brutal military regime, initially supported by the US.
Argentina's government estimates that at least 13,000 people were killed or kidnapped by the regime, including babies taken from parents. Activists believe the figure is more than double that, as high as 30,000 people.
"On this anniversary and beyond, we're determined to do our part as Argentina continues to heal and move forward as one nation," Rice said.
In 2002, the US government declassified more than 4,000 State Department cables and other documents related to human rights abuses during the time known as the "Dirty War."
However, those documents failed to pierce the shroud of secrecy surrounding that period, including US involvement in Argentina's military regime crackdown on dissidents.
In a separate release, in response to a freedom of information request by the National Security Archive, the scale of American officials' awareness of tactics used by the Latin country's regime against its own people was unveiled.
One of the released documents comprised of notes from a 1976 meeting between Secretary of State Henry Kissinger and Argentina's foreign minister César Augusto Guzzetti. It appeared to show the US politician imploring his colleague to crush the protesters that were labeled as "terrorists," Associated Press reported.
"If there are things that have to be done, you should do them quickly," Kissinger said, according to a transcript the US declassified more than a decade ago.
In Argentina, news of the declassification was welcomed as a "positive" development.
"Anything that helps analyze what happened during this chapter is a positive," an Argentine government spokesman said, according to Reuters.
Human Rights First, a US-based non-profit, praised the announcement, stressing the US's "unique position to assist the survivors."
"To ensure that there is no question about where our country stands on these issues, however, it is important not only to acknowledge violations committed by our government; we must also confront our past complicity in human rights abuses abroad," Human Rights First president and CEO Elisa Massimino said.