Teen horror blogger admits to killing mother, stepfather
Published time: 19 Mar, 2016 02:44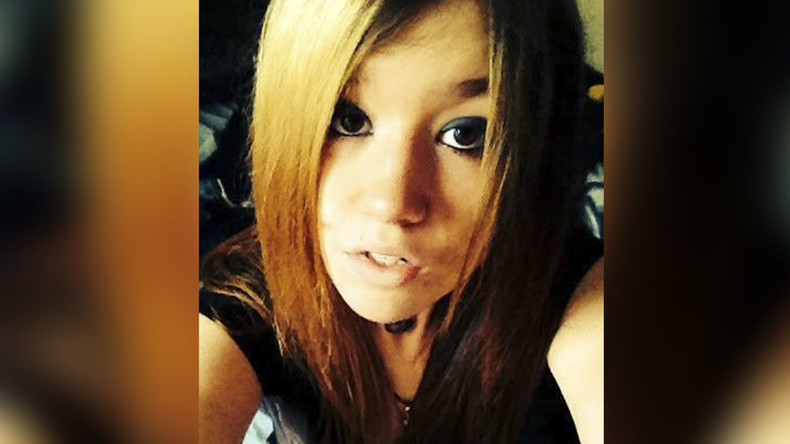 Under the name Vampchick, Ashlee Martinson wrote disturbing poems and dark tales online, but on her 17th birthday her violent ruminations manifested in a double homicide. She has since pleaded guilty to murdering her mother and stepfather.
On March 2, 2015 a blogger called Vampchick wrote a poem titled "Unworthy" "Welcome to hell," she wrote, "'I whisper in her ear. 'Never again will you see the light of day.'"
Five days later, Vampchick, better known as Ashlee Martinson, shot her stepfather and stabbed her mother over 30 times. The teen had attempted to argue insanity, but accepted a plea deal for second degree homicide.
Martinson's relationship with her mother could be described as rocky, at best. The teen told police that her mother's boyfriends had victimized her since an early age. Court documents show that she claimed one of them had burned her with a cigarette and raped her when she was nine. She also alleges that her stepfather, Thomas Ayers, was no exception.
Court documents show that Ayers, 37, had been previously accused of assault, kidnapping, child enticement and part to the crime of sexual assault of a child under 15 along with "numerous prior arrests and convictions."
Two of Martinson's three sisters painted a grim picture of life with Ayers. They told authorities that Ayers would beat them with belts until "their buttocks nearly blistered," according to the documents cited by the Washington Post. They also claim he choked them and hit one of the girls hard enough to give her a black eye.
Martinson's mother was not spared from Ayers' abuse either, according to the teenager. She told police that Ayers once pinned her mother down, put a gun to her head, and pretended to sexually assault her. Two days before Martinson killed Ayers and her mother, she messaged her 22-year-old boyfriend saying, "I woke up this morning to my step dad beating my mom... I can't take [it] anymore, he's gonna kill her if she doesn't leave soon and I don't want to be around w[h]en that happens," the court records state.
On March 2, Martinson took to her blog to channel her feelings into poetry. "Rushing through the woods late at night. Deep into the darkest corner where the agonizing screams can not [sic] be heard. Walking into a small cabin. Marveling at the sweet horrors of blood that I thirst for. I then take the next victim who is unconscious. I tightly bind them to a low table. Awaiting them to wake once more. I clean the dry blood off my tools from a previous session. The last body has been disposed of just hours before, yet I have not been satisfied with the pain, agony, and blood."
Here is what is known about the events that lead to the double homicide. A day after Martinson's 17th birthday, her mother and stepfather learned about her 22-year-old boyfriend, Sisco. Unbeknownst to them, Sisco – also known as Dan – had several convictions for theft, drug abuse, receiving stolen property, disorderly conduct and was the subject of a 2013 restraining order, the Milwaukee-Wisconsin Journal Sentinel reports.
When Martinson's parents discovered her boyfriend, they reached out to him on Facebook and threatened to press charges against him if he did not stay away. They also took away Martinson's keys and cellphone, causing a fight between the three. Martinson attempted to leave home, but Ayers brought her back. She took one of Ayers guns with the intention of killing herself, but changed her mind when Ayers started banging on her door. She proceeded to shoot him twice and went to her mother for comfort.
Martinson's mother attempted to help Ayers and, according to court documents, Martinson claims that her mother grabbed a knife and approached her daughter. The two wrestled and Martinson stabbed her mother more than 30 times.
Martinson took her three sisters, ages nine, eight and two, and gave them juice and crackers, then locked them in a room. The next morning, the girls escaped and dialed 911, the Milwaukee-Wisconsin Journal Sentinel reports.
Meanwhile, Martinson and her boyfriend were planning their getaway. Martinson took her family's five-month-old German Shepherd over to a friend's house and asked them to take care of him while she was out of town. The two then fled to Indiana, where they were arrested.
The Washington Post reports that Martinson first pleaded not guilty to first-degree homicide by reason of mental disease or defect. However, she recently accepted a plea agreement for a second-degree murder charge. She will be sentenced June 17 and faces up to 120 years in prison.