Procurement, my dear Watson: US Air Force turns to computer to manage shopping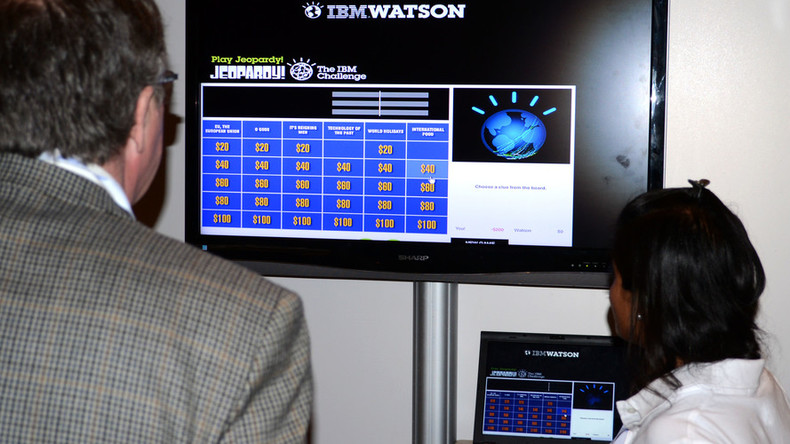 Recognizing that it is nearly impossible for human beings to navigate the federal procurement rules, the US Air Force is looking to turn the process over to a machine. Not just any machine, either, but IBM's Jeopardy-winning cognitive computer, Watson.
IBM created the computer in 2011, and named it after the company's first CEO, Thomas J. Watson. The machine became famous later that year, winning $1 million on the quiz show Jeopardy! It is not really an artificial intelligence – but can be programmed to "think" using large amounts of data. IBM has pitched the idea of using Watson to navigate government procurement rules since 2014, with the Air Force giving its blessing in August of last year.
Two contractors are currently working to create programs that would enable Watson to navigate the 1,897-page Federal Acquisition Regulation, helping potential government vendors actually bid for military contracts. As things stand now, only the major conglomerates can afford enough manpower to comply with all the rules in the book – and even then, they fail as often as not.
The Pentagon's procurement system is the "perfect application for Watson," Camron Gorguinpour, a senior official in the Air Force's acquisitions office, told the Washington Post. "While our acquisition system is very complex, it is document based... It's unreasonable to expect that a single individual or even a group of individuals to be able to fully understand all of the relevant documents to answer a specific question."
The idea behind using the cognitive computer is to create a "bureaucracy buster," Gorguinpour said.
Watson first needs to digest all the relevant documents. After that, its human "trainers" will ask the computer some 5,000 questions, helping the cognitive programming understand the context and nuances of the federal procurement laws. Even then, the machine will still need human handlers. The project is expected to become operational by 2018.
Pentagon admits more flaws in F-35. $1.5 trillion well spent?

Posted by RT America on Thursday, February 4, 2016
While the gambit may sound a little desperate, the Pentagon is eager to avoid another F-35 experience. Lockheed Martin's Joint Strike Fighter – envisioned as a jet sharing most of its components across three different subtypes, serving the Air Force, Navy and Marines – ended up suffering from chronic delays, cost overruns, and software and hardware problems. So far the project has cost more than $400 billion, with the estimated lifetime cost expected to reach $1.5 trillion, greater than three annual Pentagon budgets combined.