Frank Sinatra Jr, 72, dies suddenly on tour
Published time: 17 Mar, 2016 17:01
Edited time: 18 Mar, 2016 13:40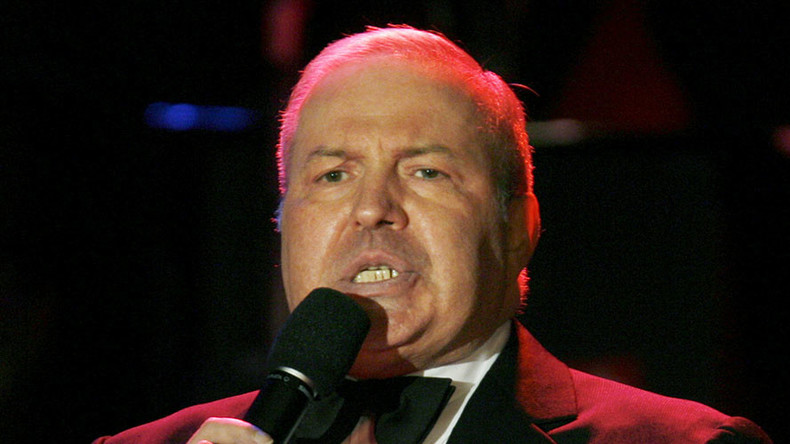 Frank Sinatra Jr, who followed in the footsteps of his legendary father, has died unexpectedly at the age of 72.
His sister Nancy Sinatra announced on Facebook that he had suffered cardiac arrest and ended her post with: "Sleep warm, Frankie".
Sinatra Jr had been due to perform a concert on Wednesday evening in the US city of Daytona Beach, Florida.
I am deeply saddened to hear of the passing of Frank Sinatra Jr and send my sympathy to Tina and Nancy and the Sinatra family.

— Tony Bennett (@itstonybennett) March 17, 2016
I always admired Frank Sinatra Jr. He was born with a hard name to live up to, but I loved his talent and his ability to be forthright.

— Larry King (@kingsthings) March 17, 2016
The second child and first son of Ol' Blue Eyes, Frank Junior went on to become a musical director and conductor. He sang with the Tommy Dorsey band, a newer version of his father's ensemble.
In 1963, when he was 19, he was famously kidnapped and held for a $240,000 ransom. The money was retrieved after the kidnappers were caught by police.
Sinatra Jr released six full-length albums, but was never successful with a hit song like his sister Nancy. He continued to perform in Las Vegas and had been on tour when he died.
In a recent interview, he told the Daytona Beach News-Journal he wasn't disappointed about not reaching his father's level of success.
"I think in my generation, when I came along in the early '60s, the type of music that was in vogue in society in those days had moved onto another kind of music," he said. "I was trying to sell antiques in a modern appliance store."
He often made cameo appearances in famous television programs including Family Guy and The Sopranos, where he had a guest spot appearing as himself, light-heartedly making fun of stories about his father's involvement with the mafia.
Frank Sinatra, Jr. was a friend to Family Guy, and a friend to me. I'm saddened at his passing, but grateful to have known him. RIP, Frank.

— Seth MacFarlane (@SethMacFarlane) March 17, 2016
He is survived by his son, Michael.
And for those millennials reading this who don't know who Frank Sinatra Sr is, this.