ISIS actions in Iraq and Syria 'genocide' - Kerry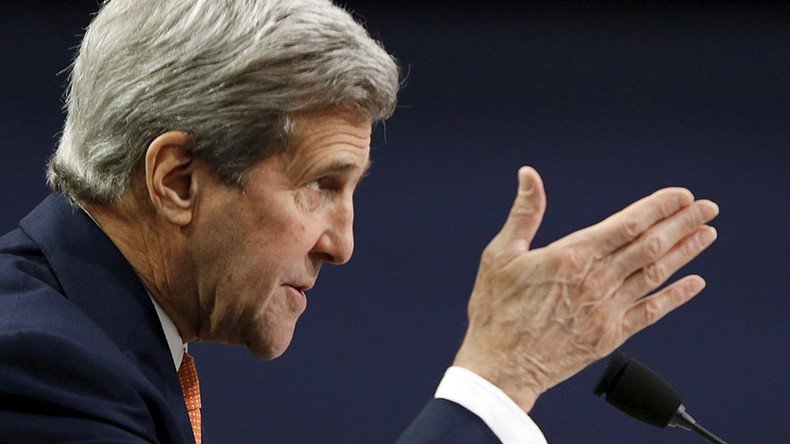 The United States has determined that Islamic State is committing genocide against Christians and other minorities in Iraq and Syria, US Secretary of State John Kerry announced on Thursday.
"In my judgment, Daesh is responsible for genocide against groups in areas under its control, including Yazidis, Christians and Shia Muslims," Kerry said, using an Arabic derogatory term for Islamic State (IS, formerly ISIS/ISIL).
"Daesh is genocidal by self-proclamation, by ideology, and by actions, in what it says, what it believes, and what it does," Kerry said. "Daesh is also responsible for crimes against humanity and ethnic cleansing directed at these same groups, and in some cases also against Sunni Muslims, Kurds, and other minorities."
The secretary acknowledged that lack of access to key areas makes it impossible for the US to compile a "complete record" of IS behavior, but said his judgment is based on a "vast amount" of data the State Department was able to gather.
Among the examples he cited were the murder and siege of Yazidis on Mt. Sinjar in Iraq, where IS captured thousands of women and girls, "selling them at auction [and] raping them at will." Kerry also brought up the destruction of churches, shrines and cemeteries, executions of Christians "solely because of their faith," and the devastation of antiquities in Palmyra, Syria.
The self-proclaimed caliphate's "entire worldview is based on eliminating those who do not subscribe to its perverse ideology," Kerry said. "If Daesh succeeded in establishing its so-called caliphate, it would seek to destroy what remains of [the] ethnic and religion mosaic once thriving in the region."
"Daesh has self-defined itself as genocidal," the Secretary of State declared. "What Daesh wants to erase, we must preserve."
Despite the genocide declaration, Kerry said an independent investigation and a formal legal decision must be made, but that the US will support "a comprehensive and unified approach to defeating Daesh."
He declined to answer reporters' questions.
The State Department announcement comes two days after the US House of Representatives voted unanimously 393-0 to declare IS behavior as genocide, a move seen as a way to put pressure on the Obama administration to do the same.
Multiple governments and groups from around the world have declared IS behavior genocidal, including Pope Francis, the European Parliament, the International Association of Genocide Scholars, the US Commission on International Religious Freedom, the Iraqi government, and several US presidential candidates.
You can share this story on social media: