1 in 4 Americans consider fleeing US if Trump wins - poll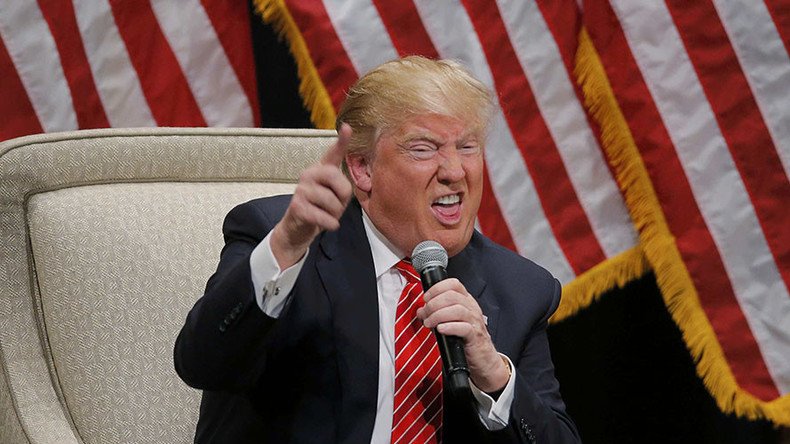 Twenty-eight percent of US citizens plan on moving to another country if Donald Trump is elected president in November, a new poll reveals. However, as data on previous mass exodus threats show, it's unlikely many of them will follow through.
Every fourth person from almost 2,000 registered voters questioned in the Morning Consult/Vox poll conducted March 10-13, said they would "likely" consider leaving the US for good for a "country, such as Canada" if the flamboyant Republican candidate were to be sworn into office at the White House.
Fifteen percent of those who are contemplating the radical way out, fearing imminent changes for the worse under a Trump presidency, report that they are "very likely" to relocate to another country.
Following Super Tuesday's tremendous success in early March, when Trump beat Texas Senator Ted Cruz by claiming seven states compared to three from his next-closest challenger, searches on Google for 'how can I move to Canada' had spiked 350 percent, according to Simon Rogers, the company's data editor.
Earlier, one local enthusiast half-jokingly launched a website called CBIfTrumpWins.com to lure in American citizens to "just hop on a bus to start new life in Cape Breton, where Muslim people can roam freely, and the only 'walls' are holding up the roofs of our extremely affordable houses," praising the benefits of living in Canada compared to that in a Trump-led America.
Although the island's tourism office said it wasn't behind the campaign, it complimented the project, saying the creator had "done a fine job as positioning Cape Breton island as a place people will want to visit and live," as cited by Politico.
Canadian Prime Minister Justin Trudeau also didn't fail to jump on the opportunity to welcome Americans to the Canadian island of Cape Breton.
"Cape Breton is lovely, all times of the year," said Trudeau in an interview to HuffPost Canada.
With Trump moving closer to winning the Republican Party nomination, securing another series of wins in Illinois, Missouri and North Carolina, and with his impressive performance in Florida knocking Senator Marco Rubio out of the race, the panic among the opponents of a widely controversial billionaire candidate is likely to grow.
However, the big question is whether all those who declare their readiness to emigrate will indeed attempt to follow through with the notion.
As for Trump's most likely presidential election rival, Democratic front-runner Hillary Clinton, she intends to stay within the US whatever happens.
"I would never leave our country, but I would certainly be spending a lot of time yelling at the TV set," she told MSNBC.
In fact, the idea to move north of the border if an unfavorable candidate wins has more than a decade-long history. As Associate Professor Adam Alter from New York University's Stern School of Business notes in a Washington Post column, when George W. Bush took the lead in the presidential race in 2004, Canada's immigration applications tripled. However, the surge in applications was not followed by a substantial increase in actual migration. The average number of Americans moving to Canada is estimated at about 9,000 per year.
You can share this story on social media: