From regime change to ISIS: 5 years of US meddling in Syria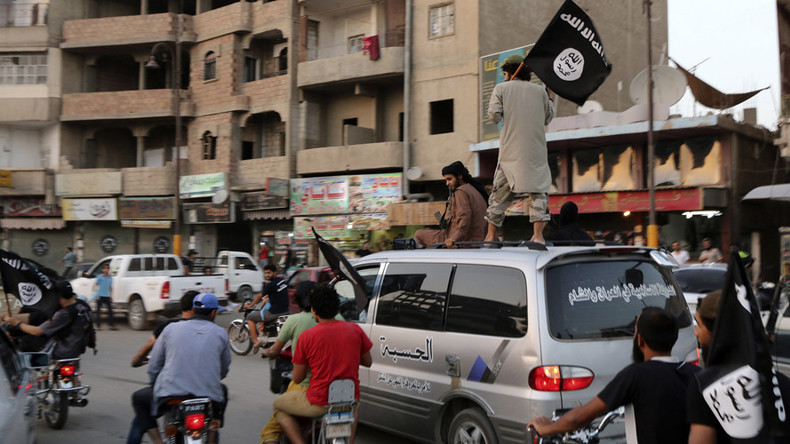 The Syrian civil war began as protesters toppled governments across North Africa in the so-called "Arab Spring." Washington has insisted on regime change in Damascus ever since, yet their rhetoric adapted over the years.
President Ben Ali of Tunisia was ousted in January, followed by protests demanding the resignation of Egypt's Hosni Mubarak and an armed rebellion against Muammar Gaddafi in Libya. A "Day of Rage" protest in Damascus and Aleppo on March 15, 2011 is commonly considered the start of the Syrian civil war. Protests escalated into an armed rebellion by July, after NATO warplanes intervened in Libya on behalf of the rebels.
Timeline of the situation in Syria

As Russian President Vladimir Putin calls for the withdrawal of the Russian military from Syria, RT takes a look at the timeline of Syria and how it got to the chaos of today. Read More: https://www.rt.com/news/335554-putin-orders-syria-withdrawal/

Posted by RT America on Monday, March 14, 2016
2011: 'Peaceful transition,' guns, and roses
President Barack Obama made the first call for regime change in Damascus in August 2011.
"The United States has been inspired by the Syrian peoples' pursuit of a peaceful transition to democracy," Obama said. "They have spoken with their peaceful marches, their silent shaming of the Syrian regime, and their courageous persistence in the face of brutality."
"The future of Syria must be determined by its people, but President Bashar al-Assad is standing in their way," Obama declared. "For the sake of the Syrian people, the time has come for President Assad to step aside."
Bashar Assad became president of Syria in 2000, after the death of his father Hafez, who had run the country since 1971. Bashar had been an eye doctor living in the UK when his elder brother was killed in a car wreck in 1994.
The 2011 protests began in Hama, where in 1982 Hafez al-Assad had brutally suppressed an Islamist insurgency. In June 2011, US Ambassador Robert Ford visited Hama as "tens of thousands" of protesters threw red roses at his car. By July 29, the Free Syrian Army (FSA) was proclaimed by the rebels.
Washington had previously covertly funded "democratic campaigners" in the country, through a program initiated by President George W. Bush, while imposing sanctions against Damascus in 2003.
2012: A 'red line' afterthought
Obama addressed Syria again at the end of an August 20, 2012 press conference, mostly dedicated to his re-election bid.
"I have indicated repeatedly that President al-Assad has lost legitimacy, that he needs to step down," Obama told reporters at a White House.
In his message he clearly identified what may have been a pretext by which the US would get involved in the conflict.
"We have been very clear to the Assad regime, but also to other players on the ground, that a red line for us is we start seeing a whole bunch of chemical weapons moving around or being utilized. That would change my calculus. That would change my equation," the US president said.
"We have communicated in no uncertain terms with every player in the region that that's a red line for us," Obama added. The players in the region may be defined as Saudi Arabia, Qatar, Bahrain, Jordan and Turkey.
2013: Attack aborted
Exactly a year later, on August 21, 2013, it seemed that the "red line" had been crossed, as rebels and their backers alleged the Syrian government had used chemical weapons against civilians in the Damascus suburb of Ghouta.
"We know the Assad regime was responsible," Obama thundered from the White House, threatening to attack Syria.
However, on August 29 the British Parliament declined to back a military intervention in Syria, meaning that the US would have to act alone. During a visit to London on September 9, US Secretary of State John Kerry made what he later called a "rhetorical argument."
"Sure, he could turn over every single bit of his chemical weapons to the international community in the next week - turn it over, all of it without delay and allow the full and total accounting, but he isn't about to do it and it can't be done," Kerry said, referring to Assad.
At this point, Russia offered to negotiate precisely that – and Assad said yes. On September 10, Obama addressed Americans in front of the White House, explaining that he wanted to give diplomats a chance.
"I have, therefore, asked the leaders of Congress to postpone a vote to authorize the use of force while we pursue this diplomatic path," he said, arguing that the US threats brought Damascus to heel.
2014: Darkness rising
Although in part armed and aided by the CIA and the Gulf Arab states, the rebellion began to lose ground as 2014 began. The largest Islamist rebel group, the Al-Qaeda-affiliated Al-Nusra Front, had been engaged in a power struggle with a fraction led by Abu Bakr Al-Baghdadi, who tried to unify the two in what he called the "Islamic State of Iraq and the Levant," or ISIL.
Disavowed by Al-Qaeda, Baghdadi went on to proclaim a caliphate – the Islamic State of Iraq and Syria (ISIS) in June 2014. ISIS controlled a large swath of territory in eastern Syria and western Iraq, with a capital in the Syrian city of Raqqa.
After ISIS showed videos of gruesome executions of American hostages, the US launched an air war against the group, striking Raqqa and several other sites.
"Last night, on my orders, America's armed forces began strikes against ISIL targets in Syria," Obama declared on September 23.
"We were joined in this action by our friends and partners – Saudi Arabia, the United Arab Emirates, Jordan, Bahrain, and Qatar. America is proud to stand shoulder to shoulder with these nations on behalf of our common security."
The Russians are coming
While airstrikes by the US-led coalition did little to stop Islamic State (IS, formerly ISIS/ISIL) advances, the self-proclaimed caliphate had pushed the government forces on the defensive. By August 2015, IS was on the doorstep of Damascus, about to deliver on the continued US insistence that "Assad must go."
Washington responded by blaming Assad for the rise of IS. Numerous US officials championed a military intervention that would establish a no-fly-zone over Syria and "safe areas" in rebel-held territory. Efforts to train and arm a "moderate opposition" were exposed as an embarrassing failure and a "disaster" by then, however: most of the US-trained rebels and their weapons had ended up in the hands of Al-Nusra.
Then, on September 30, Russia deployed an Air Group to the Khmeimim Airbase outside Latakia, and began bombing the terrorists. Obama dismissed this as an attempt to "prop up Assad," and a "recipe for disaster."
"It just won't work, and they're going to stay there for a while," the US president said at a news conference in October.
Two months later, however, Washington was still insisting that "Assad must go," but Secretary Kerry was singing another song to the Russian media.
"We are not trying to do a regime change. We are not engaged in a color revolution. We're not engaged in trying to interfere in another country … We're trying to make peace," Kerry told Rossiya 24.
Since then, the Syrian Arab Army and its Kurdish allies had turned the tide: clearing Latakia province, relieving the IS/Al-Nusra siege of Aleppo, and driving IS back towards Raqqa. A ceasefire between the government and the rebels took effect on February 26.
On March 14, Russian President Vladimir Putin announced a pullback of the Russian expeditionary force, declaring the objectives "generally accomplished." Five years and an estimated 250,000 lives later, the Syrian War might be coming to an end.
You can share this story on social media: