Cops caught on camera eating sweets after raiding medical marijuana dispensary will be charged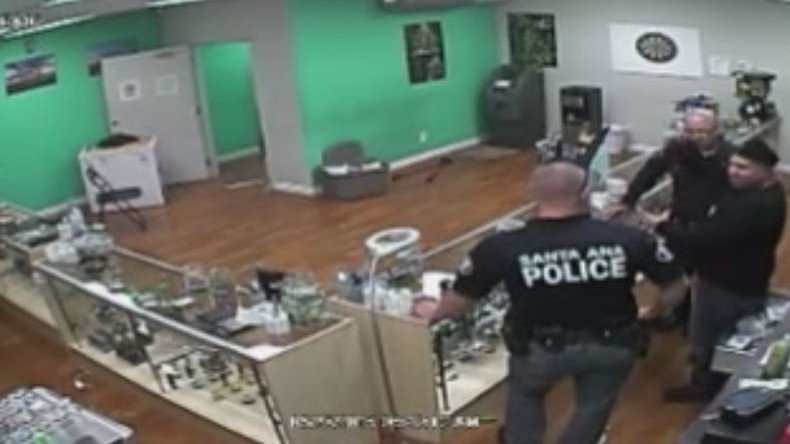 Police who were filmed passing around candy bars and joking about feeling "light headed" after raiding an Orange County medical marijuana dispensary are heading to court to face charges for theft and vandalism.
When the Santa Ana Police Department (SAPD) shut down the Sky High Dispensary, they opened a can of worms. Police knocked down the doors and used crowbars to destroy all of the security cameras in the store – or so they thought. The remaining cameras caught police on their worst behavior. The cops were filmed passing around candy that was believed to be laced with weed.
The Orange County District Attorney (OCDA) has said that there was no evidence that the candy consumed was laced with weed and that the police were instead eating some snacks that had been for the staff. However, three officers are facing charges for the destruction of the security cameras as well petty theft for stealing the snacks.
The OCDA released a statement saying, "While other SAPD personnel ate some protein bars, there is insufficient evidence that they knew the foot itmes [sic] belonged to the dispensary and not their fellow officers."
"There was also no evidence that any SAPD personnel consumed any edible marijuana items available at the dispensary," the statement read.
One video, obtained by the OC Weekly, shows officers Brandon Matthew Sontag and Jorge Arroyo chatting while wrapping up the raid. It is unknown who is who, but one unidentified officer asks the other if he is familiar with "John Fish, the D.A."
When the other confirms that he does know Fish, the first officer says, "He's the judge that signed our warrant" before launching into an anecdote about him, saying, "He's the f***er that pulled into a gas station on our way to the Staples Center and goes, 'Let's buy some beers and drink 'em out of a red cup.' I go, 'That's not going to be obvious.' There we are at an AM/PM getting styrofoam cups and pouring our beers into them."
Johnathan Fish, a former prosecutor for the district attorney, has been a judge on the Superior Court of Orange County since 2008 and was unavailable for a comment.
In another portion of the video, a female officer, Nicole Lynn Quijas, commented that she wanted to kick an amputee woman, "in her nub." The woman, Marla James, is a disabled marijuana advocate who insists that she was polite to the officers and told the OC Weekly that she had "even complimented her on her hair. I treated that woman with respect and I have no idea why she wanted to kick my stump."
The dispensary was raided after it was discovered to be operating without a license. However, it has since reopened and, based on the website, appears to be doing what it does best, serving the community's medical marijuana needs.
You can share this story on social media: