Rising sea levels could displace 13 million in US by 2100 - study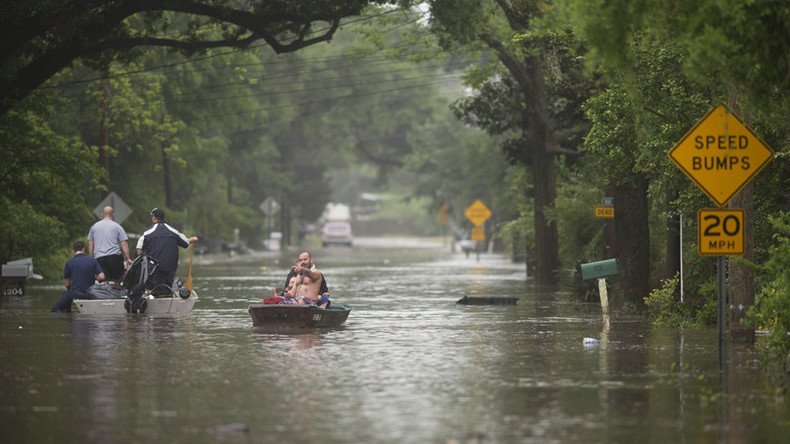 The impact of climate change on sea levels could force as many as 13 million US residents by 2100, according to a new study. The prediction is a three-fold increase from other major studies on the US impact of rising sea levels.
The study, published in the journal Nature Climate Change, marks a new attempt to take into account population trends in coastal communities when predicting the risk of sea-level changes, the study's author said.
"Coastal communities are some of the most rapidly growing communities in the world, so you have to account for the fact that these areas are growing," said Mathew Hauer, a demographer at the University of Georgia's Franklin College of Arts and Sciences, according to New Scientist. "Using current data, we're underestimating what the future growth in coastal communities is likely to do in terms of placing people at risk of sea-level rise."
For the study, Hauer and his fellow researchers used population-growth projections for all 319 coastal counties in the US and potential scenarios regarding sea-level rise from the US National Oceanic and Atmospheric Administration (NOAA).
Should seas rise by 6 feet (1.8 meters) by 2100, 13.1 million people could be displaced, the study found, while a rise of 3 feet (0.9 meters) could mean displacement of 4.3 million people.
"The impact projections are up to three times larger than current estimates, which significantly underestimate the effect of sea level rise in the United States," Hauer said in a statement. "In fact, there are 31 counties where more than 100,000 residents could be affected by 6 feet of sea level rise."
Should sea levels rise by 6 feet, the state of Florida would be hit the hardest, according to the study, with six million people possibly affected. One million people in both California and Louisiana would be affected. Communities in North Carolina, South Carolina, Virginia, and New Jersey, among others are also at risk. Ten percent of the population in Nassau County, New York – just east of New York City – could see displacement as well.
Hauer said he hopes the study can help coastal communities plan for potential impacts of climate change.
"If you deploy infrastructure in areas that are growing, you might be protecting more people in the future than you're currently protecting, making it a better investment," he said, according to New Scientist.
In August, NASA said that sea levels around the world are on track to increase three feet or more by the end of the century. Furthermore, the US space agency said sea levels have risen an average of 3 inches since 1992 and are now rising faster than they were 50 years ago.
Recent research found that sea levels rose several times faster in the 20th century than in the past 2,800 years. A companion study reported that more than half of the 8,000 coastal floods observed at US tide gauge sites since 1950 would not have occurred if not for the climate change-induced rise in sea levels.
You can share this story on social media: