Thanks a lot, Mr. Robot: Americans see rise in robot workforce, but say their jobs are safe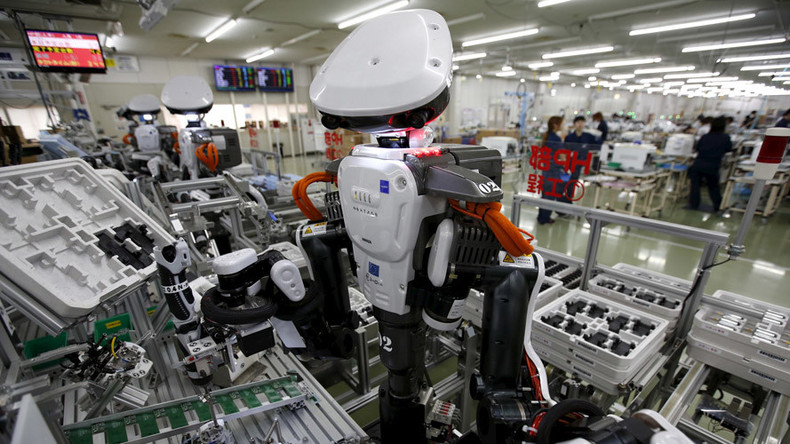 Two-thirds of Americans surveyed believe that within 50 years robot and computer automation will take on much of the work now done by humans, according to a newly released poll. At the same time, four-fifths of Americans said their job would remain human.
Sixty-five percent of respondents to a Pew Research Center poll said that, in the next 50 years, robots and computers will "definitely" or "probably" do much of the work currently done by humans. Twenty-five percent said "probably not," and seven percent said "definitely not."
Despite the fact that a clear majority believes the rise of complex algorithms and robotic capabilities will wipe out much human employment, 80 percent of respondents were confident that their own current job would "definitely" or "probably" remain intact, with only six percent saying "definitely not," and twelve "probably not."
Respondents under the age of 50 and those with high household incomes and levels of education were more skeptical of a robot takeover, Pew found. Thirty-five percent of 18- to 49-year-olds said the prospect was unlikely, while 27 percent of those aged 50 and over agreed. Thirty-seven percent of college degree holders said the prospect of a bot stealing their job was unlikely, versus 28 percent of those who did not attend college. Of those with annual household incomes higher than $75,000, 38 percent said it was unlikely, as opposed to 27 percent of those with annual household incomes under $30,000.
Americans working in government or nonprofit settings were less likely to believe computers or robots could do their jobs than those working for large corporations or medium- and small-sized employers.
Manual laborers were the most sure of their jobs still being around in 50 years, with 41 percent saying their jobs would "definitely" exist as is. Only 23 percent of employees in a managerial or executive roles were confident that their job would remain.
Pew found that most employees, especially manual laborers, considered other threats to their jobs more serious than that of robots, such as competitors working for lower pay or the overall contraction of their industry.
The signs and predictions that the human workforce will be displaced by automation on a grand scale in the near future continue to stack up. Last month, the American Association for the Advancement of Science said that robots will replace half of the global workforce by 2045. Jobs requiring moderate skill, unlike high-end doctors, for instance, or low-end food service works, are most at risk, said Rice University computer science professor Moshi Vardi.
A January report from the Oxford Martin School said that the Organization for Economic Cooperation and Development estimates that 57 percent of jobs were susceptible to automation.
Meanwhile, in what it called a conservative estimate, the World Economic Forum recently said that advances in technology combined with socio-economic demographic changes could lead to the net loss of 5 million jobs in 15 major economies in 2020.
"[A]s many as 7.1 million jobs could be lost through redundancy, automation or disintermediation, with the greatest losses in white-collar office and administrative roles," the World Economic Forum stated in its 'The Future of Jobs' report released last month. "The loss is predicted to be partially offset by the creation of 2.1 million jobs, mainly in…Computer and Mathematical or Architecture and Engineering."