Obama chides UK & Saudi Arabia, says conflict with China is possible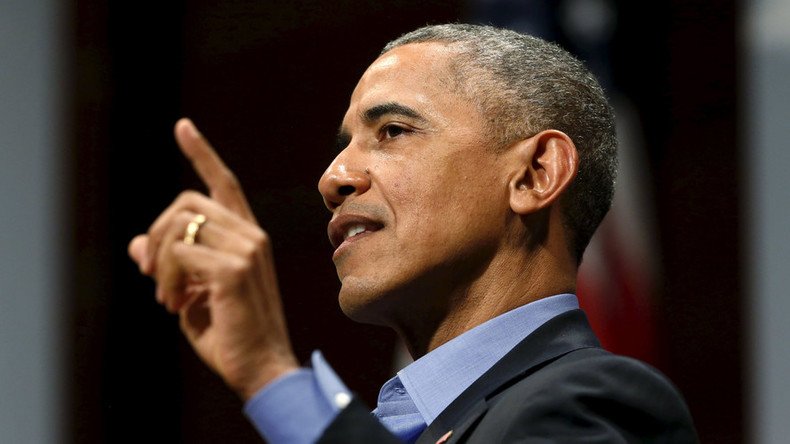 US President Barack Obama says there is "the potential for conflict with China," while also criticizing the UK for being "free riders" in an interview with The Atlantic magazine. However, he also dispelled myths regarding President Vladimir Putin's poor timekeeping.
President Obama is in the last year of his presidency as he comes to the end of his second term in the White House. He gave a series of interviews over a period of months to The Atlantic's Jeffery Goldberg, where he looks back at important issues of foreign policy during his tenure.
RUSSIA
Washington's relations with Russia have not been rosy over the last couple of years. Moscow has been accused by the West of being responsible for creating numerous ills around the globe, while even President Vladimir Putin has been criticized for his tardiness.
"The truth is, actually, Putin, in all of our meetings, is scrupulously polite, very frank. Our meetings are very businesslike. He never keeps me waiting two hours like he does a bunch of these other folks," Obama said.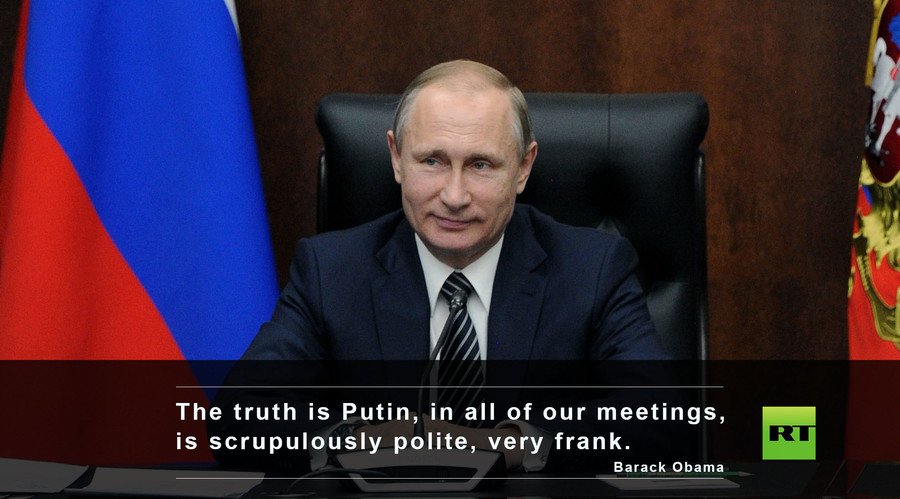 However, the US president continued to belittle Moscow, saying that Russia's position in the world is "significantly diminished."
Obama accepts that Ukraine is a core Russian interest but not an American one, so Russia will always be able to maintain escalatory dominance there.
"[Ukraine] is an example of where we have to be very clear about what our core interests are and what we are willing to go to war for. And at the end of the day, there's always going to be some ambiguity."
The Kremlin says it is aware of the interview given by the US president and will be studying the statements and interpretations he made, Putin's press secretary Dmitry Peskov stated.
CHINA
One of Obama's main aspects of foreign policy has been a pivot to Asia, but according to The Atlantic, the challenge posed by China requires constant attention.
"In terms of traditional great-state relations, I do believe that the relationship between the United States and China is going to be the most critical," Obama said.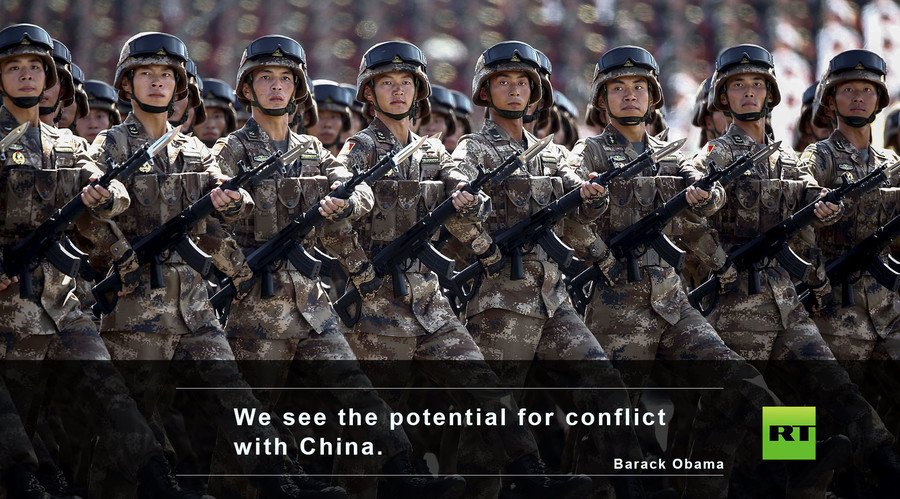 Worryingly, the US president has not ruled out the potential for conflict with Beijing if China continues to antagonize its neighbors.
"If it [China] views the world only in terms of regional spheres of influence—then not only do we see the potential for conflict with China, but we will find ourselves having more difficulty dealing with these other challenges that are going to come."
UNITED KINGDOM
Ever since the end of the Second World War, the United Kingdom has championed its special relationship with the United States. In March 2012, British Prime Minister David Cameron received glowing praise from Obama, who said, "We meet to reaffirm one of the greatest alliances the world has ever known."
Almost exactly four years later, Obama has brought these special ties into question, telling The Atlantic "free riders aggravate me." He had warned Cameron that Washington would no longer have a "special relationship" with the UK if London did not commit to spending at least two percent of its GDP on defense, following a NATO directive.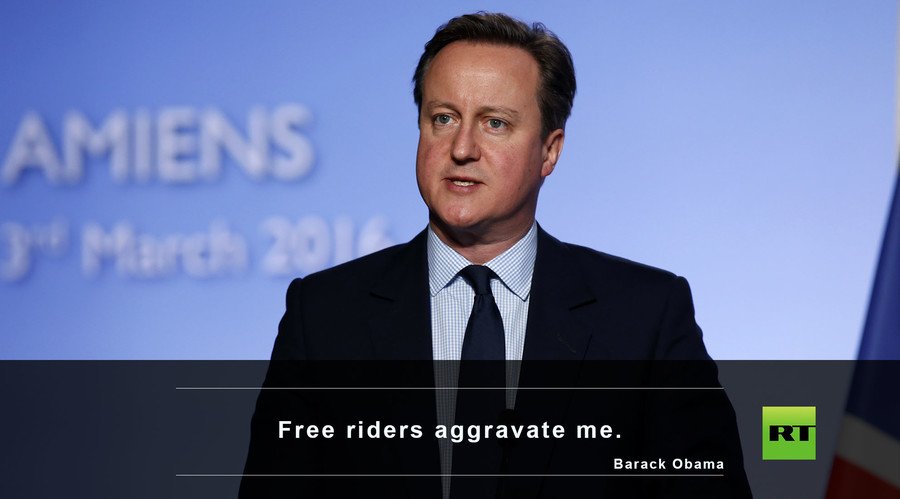 In June 2015, US Air Force Secretary Deborah Lee James said: "Defense spending should be a red line and this is the path we are taking in the United States."
This was not lost on Obama, who told Cameron, "You have to pay your fair share." Consequently, the British prime minister met the two percent spending mark.
LIBYA
Obama's attack on Cameron was not just related to defense spending. The US president accused the British prime minister of being "too distracted" to pay attention to the problems in Libya after its leader Muammar Gaddafi was toppled in 2011.
"There's room for criticism, because I had more faith in the Europeans, given Libya's proximity, being invested in the follow-up," he said, while adding that Cameron stopped paying attention to the problems in the oil-rich North African nation because he became "distracted by a range of other things."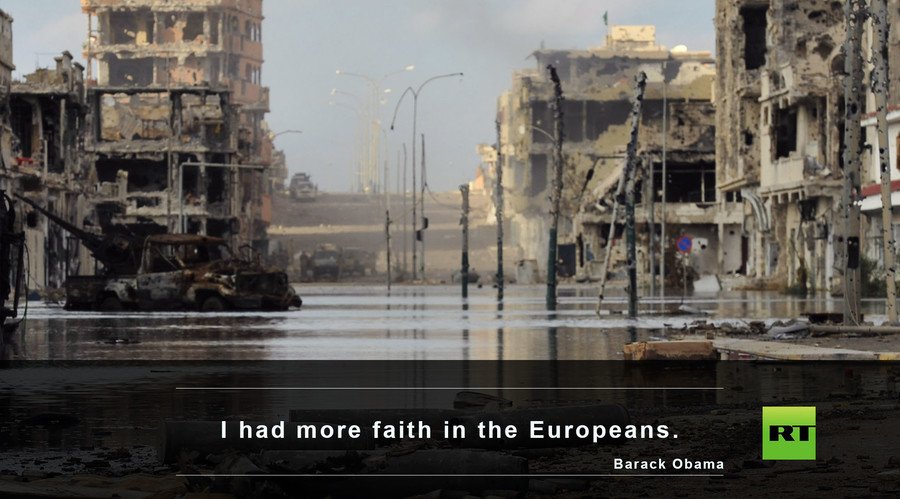 Obama saw intervention as "part of the anti–free rider campaign," where other allies would be able to take up the lead, leaving Washington to take a back seat.
"We don't have to always be the ones who are up front," he told The Atlantic. "Sometimes we're going to get what we want precisely because we are sharing in the agenda. The irony is that it was precisely in order to prevent the Europeans and the Arab states from holding our coats while we did all the fighting that we, by design, insisted."
The US president also admitted that what happened in Libya proved to him it would be best to avoid the Middle East. "There is no way we should commit to governing the Middle East and North Africa," he said. "That would be a basic, fundamental mistake."
SYRIA
With figures across the political spectrum in the US calling for intervention in Syria, including some of Obama's own trusted advisors, after Syrian President Bashar Assad had crossed the "red line," the president decided he would not use military power and break what he calls "the Washington playbook."
"There's a playbook in Washington that presidents are supposed to follow. It's a playbook that comes out of the foreign-policy establishment," he said in his interview with The Atlantic.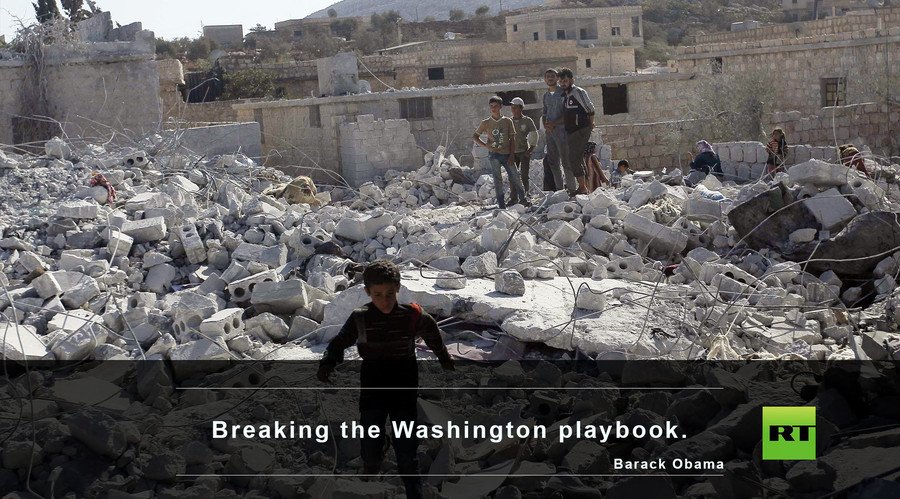 "Where America is directly threatened, the playbook works. But the playbook can also be a trap that can lead to bad decisions. In the midst of an international challenge like Syria, you get judged harshly if you don't follow the playbook, even if there are good reasons why it does not apply," the US president added.
Obama says he is "very proud of this moment," given that he was able to pause and take stock of the situation, rather than rush in to invade yet another country in the Middle East.
"The fact that I was able to pull back from the immediate pressures and think through in my own mind what was in America's interest, not only with respect to Syria but also with respect to our democracy, was as tough a decision as I've made—and I believe ultimately it was the right decision to make," he said.
SAUDI ARABIA
According to The Atlantic, Obama has never had much patience for Saudi Arabia and has argued in private: "A country cannot function in the modern world when it is repressing half of its population."
The US president went as far as saying that the Saudis need to "share" the Middle East with their regional rival, Iran.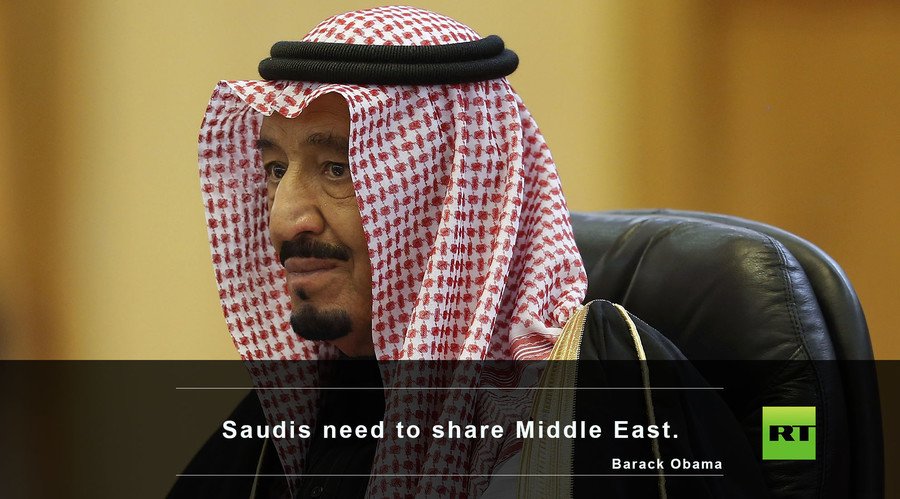 "The competition between the Saudis and the Iranians—which has helped to feed proxy wars and chaos in Syria and Iraq and Yemen—requires us to say to our friends as well as to the Iranians that they need to find an effective way to share the neighborhood and institute some sort of cold peace," he said.
Rather than look to isolate Tehran, Obama believes if Saudi Arabia was given full backing by Washington against its Shia rival, this would only help to inflame sectarian problems in the region.
"An approach that said to our friends 'You are right, Iran is the source of all problems, and we will support you in dealing with Iran' would essentially mean that as these sectarian conflicts continue to rage and our Gulf partners, our traditional friends, do not have the ability to put out the flames on their own or decisively win on their own, and would mean that we have to start coming in and using our military power to settle scores. And that would be in the interest neither of the United States nor of the Middle East."
VENEZUELA
To say US relations with Venezuela were strained while the South American nation was ruled by Hugo Chavez would be an understatement. However, Obama admitted in his interview with The Atlantic that military intervention never crossed his mind, as Venezuela was "not a threat" to the US.
"We made a very strategic decision early on, which was, rather than blow him [Chavez] up as this 10-foot giant adversary, to right-size the problem and say, 'We don't like what's going on in Venezuela, but it's not a threat to the United States.'"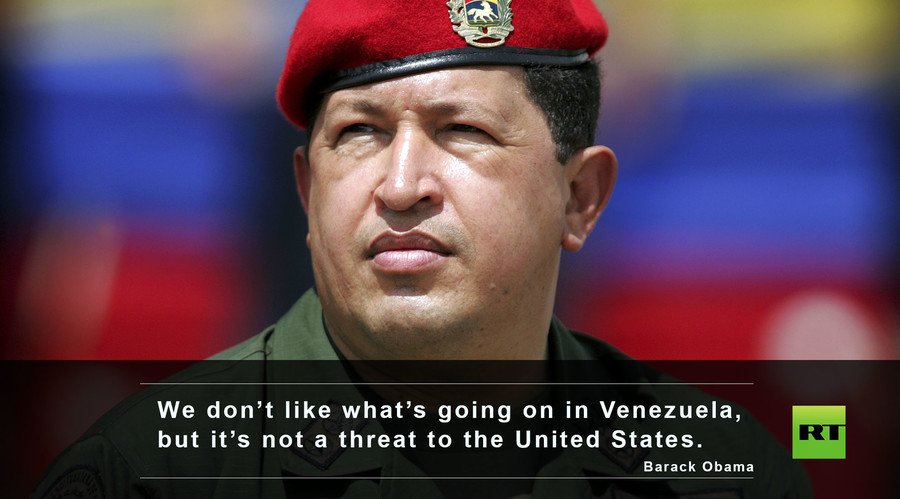 "When I saw Chavez, I shook his hand and he handed me a Marxist critique of the US–Latin America relationship," Obama recalled. "And I had to sit there and listen to Ortega"—Daniel Ortega, the radical leftist president of Nicaragua—"make an hour-long rant against the United States. But us being there, not taking all that stuff seriously—because it really wasn't a threat to us"—helped neutralize the region's anti-Americanism, Obama added.
You can share this story on social media: