Donald dogs: Famous Chicago eatery welcomes Trump with tiny wieners (PHOTOS)
Published time: 11 Mar, 2016 22:30
Edited time: 11 Mar, 2016 23:23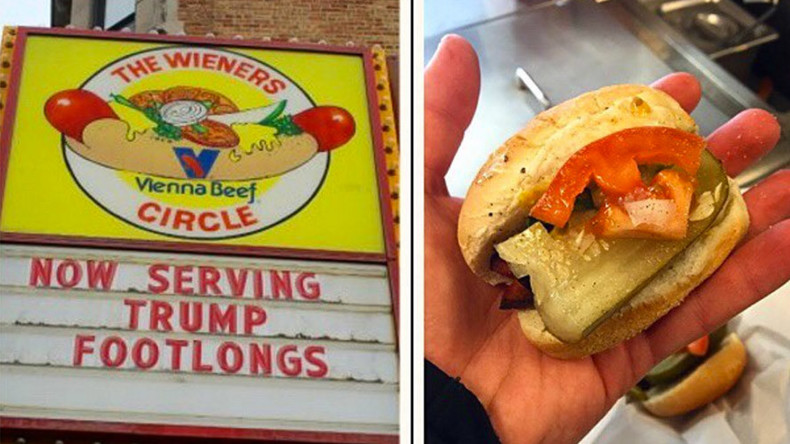 Tuesday will be Illinois' turn to weigh in on the presidential nomination process – and Donald Trump will be in its biggest city for a rally this weekend. The infamous hot dog stand The Wiener's Circle, which is known for its cranky, late-night antics, is welcoming him with three-inch hot dogs.
And of course, they're Chicago style, which is an all-beef frank in a poppy seed bun "rolled through the garden" with mustard, tomatoes, chopped onions, relish, pickles, sport peppers, and celery salt toppings (never ask for ketchup, especially at the 'Circle', if you know what's good for you).
From Friday through Sunday, the "Trump Art of the Meal" menu will "make wieners great again."
Customers can order the Trump footlong (a single, three-inch mini-dog), the Trump Package (two mini-dogs with fries and a drink), and the Super PAC (four mini-dogs, fries, and a drink).
"At The Wiener's Circle, we're going to do our part to make him feel at home," said Brendan Kelly, Wiener's Circle creative director. "Americans are hungry for a good old fashioned Trump footlong."
The hilarious menu came out of the Republican debate earlier this month, when presidential hopeful Marco Rubio claimed that Trump had small hands, alluding to The Donald's penis size.
The outlet hopes to install signage over the weekend that echo previous comments made by the Republican presidential hopeful.
"I believe that the tagline for the wall is, 'We're going to build a wall to keep E. coli out and make Chipotle pay for it,'" Kelly joked.
Those who have tried the wieners seem to be loving them so far.
The Wiener's Circle is a popular stop for the after-midnight crowd, who are entertained by the staff's aggressive approach to slinging dogs and fries, as discovered by Conan O'Brien a few years ago.