Florida sheriff threatens to 'lock the Apple CEO up' over dispute with FBI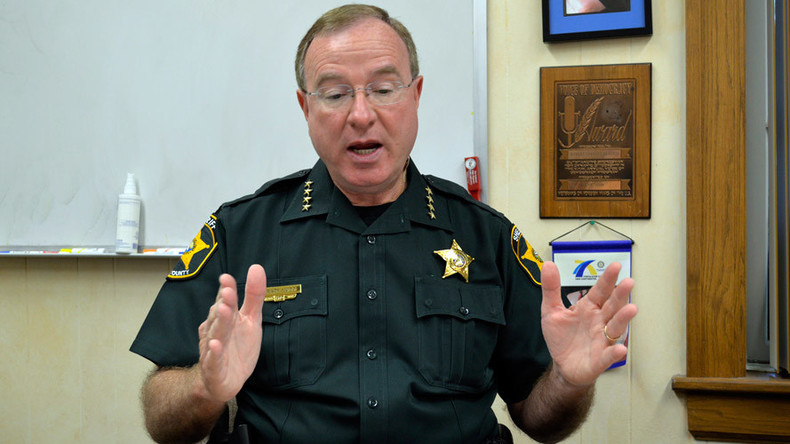 The sheriff of Florida's Polk County has strongly sided with the FBI in its battle with Apple. He also has a message for the tech giant: If an iPhone in his county needs to be unlocked, he will arrest CEO Tim Cook if he refuses to comply.
Sheriff Grady Judd issued his warning to the tech giant on Wednesday in the wake of the murder of 31-year old Robert Banks. The Lakeland, Florida drug dealer was allegedly beaten to death by brothers Anthony, Brian and Nathan Johnson and their friend Michael Gunn. The four are now facing first-degree murder charges.
The suspects allegedly took pictures of Banks's body so they could brag about it, but those photographs are believed to be stored in one of their passcode-protected smartphones.
Judd said that the suspects are cooperating and have handed over their passcodes to the authorities. When asked about the related issue of Apple refusing an FBI order to open the iPhone used by a San Bernardino terrorist, however, he made his stance on the controversy loud and clear.
"You cannot create a business model to go, 'We're not paying attention to the federal judge or the state judge. You see, we're above the law.' The CEO of Apple needs to know he's not above the law, and neither is anybody else in the United States," he said, according to Fox News.
Though the suspects in the murder of Banks did not use iPhones, banks said that should the situation arise, he would arrest Apple CEO Tim Cook himself.

"I can tell you, the first time we do have trouble getting into a cell phone, we're going to seek a court order from Apple," Grady continued. "And when they deny us, I'm going to go lock the CEO of Apple up. I'll lock the rascal up."
Tim Cook and Apple have taken a strong stance supporting strong encryption and the privacy of their customers, and have indicated a willingness to take their fight all the way to the Supreme Court.
Judd has previously blasted Apple for their supposed lack of cooperation with law enforcement. Last August, a man accused of having hundreds of child pornography images was believed to have even more on his locked iPhone.
The sheriff accused the board of directors and CEO of Apple of getting in the way of law enforcement who have legal warrants, and asked if they would want their children to be the subjects of child pornography.
"Tech companies are creating instruments now where we can neither trace terrorists or trace criminals or trace sex predators even with a search warrant with probable cause. With what our rules of protecting the community require and also allow," he said at the time, according to WFLA.