Poor shaming: Murdoch-owned paper targets homeless while NYPD trashes their stuff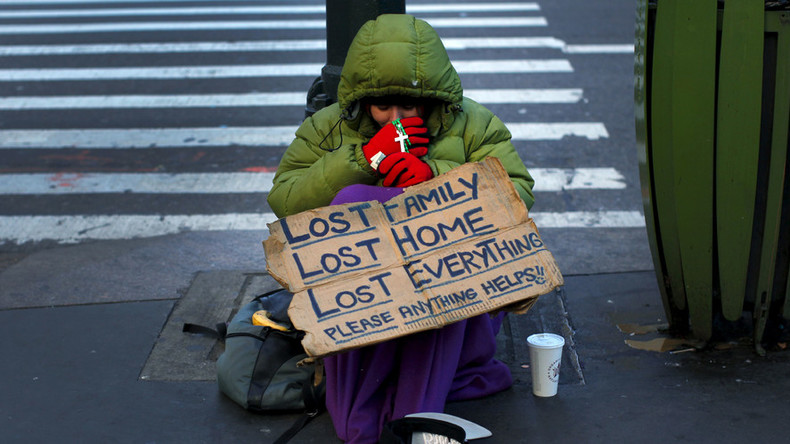 The Rupert Murdoch-owned New York Post is under fire after one of its front page "poor shaming" stories about a homeless woman led to the destruction of her property by city thugs Wednesday.
News Corp's tabloid Tuesday featured Sonia Gonzalez, who lives in Hell's Kitchen with her "20 grocery carts, 14 laundry carts, 8 suitcases, 2 plastic crates, and 1 dolly."
Just hours after the story was published, police officers and city workers, most of whom can't afford to live in Hell's Kitchen themselves, took her possessions and threw them away.
One construction worker, sounding like a rich property developer, was supposedly quoted in the article as saying, "Someone needs to call Sanitation and have that crap thrown out. You don't want to go back to what (the neighborhood) was 20 years ago."
Described as a "hoarder" and "ultimate pack rat", the newspaper stalked the gentrification victim all day, even reporting that she had "munched on a gyro as she took a 25 minute break."
"It's a funny thing that cops were talking to her now, because I've never seen a cop talk to her before," a doorman said.
The Post wrote a follow-up to the story, recording police taking Gonzalez's possessions from her.
They said Mayor Bill de Blasio, who was elected on a so-called "progressive" platform, "gave the order to dump" her belongings.
After 90 minutes, all she had left was a duffel bag, a trash bag, and three laundry carts.
The mayor's spokesperson said outreach teams had tried to get her to go to a shelter over the years, but that she does not want to engage.
In fairness to Gonzalez, NYC homeless shelters are notoriously plagued with violence and even the state's governor called for reforms.
The New York Daily News, a right-wing tabloid owned by billionaire real estate tycoon Mort Zuckerman, was also at the scene of this extremely important story.
Gonzalez told them that only half of the goods were hers, the other half belonged to her "customers".
The Post has a reputation for its harsh coverage of homeless people.
Last year, they targeted a homeless man named John Tucker on the front page over a number of days because he peed in the street.
"Peeing menace" and "disgusting derelict" were some of the terms used to describe Tucker.
You can share this story on social media: