Lawmakers call for New York cop to be fired over black teen shooting
Published time: 11 Mar, 2016 05:31
Edited time: 20 Dec, 2016 00:02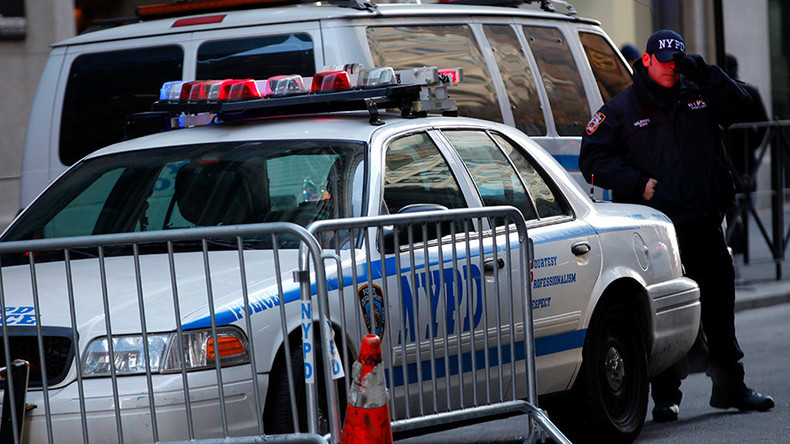 Just two days after federal prosecutors said they would not pursue criminal charges against a New York police officer for the shooting death of unarmed black teenager, city lawmakers rallied with the family to call for the officer to be fired.
"I'm here today standing in front of city hall right now, asking Mayor de Blasio to fire all the officers that was involved in my son's killing and also the cover-up," said Constance Malcolm, Graham's mother, at a Thursday press conference.
Malcom was joined by more than half a dozen politicians, who rallied against the New York Police Department and Commissioner Bill Bratton.
"We are tired. It's four years and I still don't have an answer to why my son is dead," Malcolm added.
Twenty-eight New York City Council members have signed a letter to Commissioner Bratton that calls for an internal investigation into the "murder" of Graham.
The shooting of Ramarley Graham took place in the Bronx on February 2, 2012. A New York police officer named Richard Haste, who worked in the narcotics unit, suspected Graham of having a gun. He allegedly pursued the teen, breaking down the front of a building, and then breaking through the front of the family's apartment, before shooting Graham in the bathroom.
"You know, this police officer, it wasn't just his act. It was the people in there who stood along with, who thought it was ok to knock down the door and condone that behavior," Andy King, a Democratic councilman from the Bronx, told RT. "It was for everyone that [there] who said, 'we need to clean this scene up really quick and get our story together.'"
Haste alleged that the teen had been reaching for a gun tucked inside his waistband, but none was ever found. Haste was initially charged with manslaughter, but the charges were later dropped due to a prosecutorial technicality. A subsequent grand jury failed to indict him.
"These officers should not be running around with a gun or a badge," said Malcolm. "They're reckless."
The New York Daily News reported that Haste was hit with departmental charges in 2012 for discharging a firearm outside department guidelines and could still lose his job.
Graham's family filed a lawsuit against the city of New York that was settled for $3.9 million in 2015.
In addition, Graham's family has spent the past four years trying to hold officer Haste accountable for the teen's death. Regular marches and rallies have been held, appeals to the federally appointed investigator general have been made, and a petition calling for federal charges has been submitted – but to no avail.
Federal prosecutors announced on Tuesday that there was not enough evidence to pursue criminal charges against Haste. In explaining why charges would not be pursued, US Attorney Preet Bharara said that the investigation had found no evidence to refute Haste's claim that he shot Graham "in response to his mistaken belief that [the teen] was reaching for a gun."