'Gasland' families win $4.24mn fracking lawsuit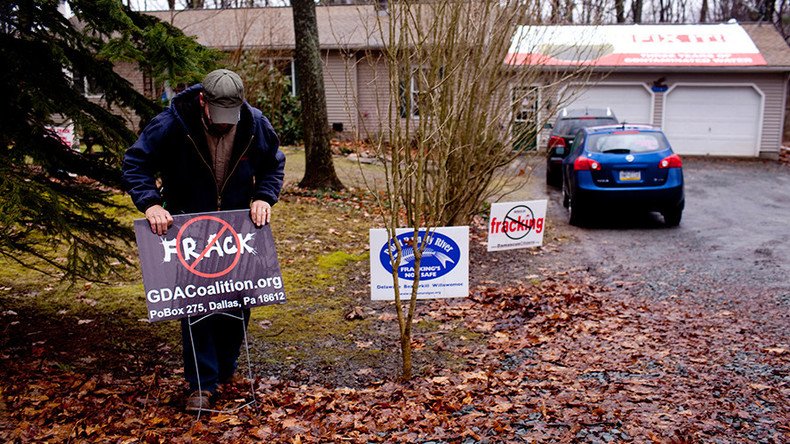 A federal jury has ordered Cabot Oil & Gas to pay more than $4.24 million in damages to two families in Dimock, Pennsylvania, who claimed the company's fracking operations contaminated their groundwater with methane.
The jury reached its verdict on Thursday in the lawsuit that accused the company of polluting the families' well water as a result of its natural gas drilling operations, according to Reuters. Cabot Oil & Gas said it will appeal the verdict.
Six jurors in federal court in Scranton awarded $1.3 million each to Scott Ely and Monica Marta-Ely, and $50,000 to each of their three children.
"This has been an exhausting six and a half years," Scott Ely said after the verdict, according to Reuters.
Ely told the news outlet that Cabot "boxed them in," by limiting evidence his attorney could introduce and what could be presented in testimony.
"They are an arrogant company that bullies their way to what they want," Ely told Reuters. "If they had just done the right thing, it would have been so much easier for them."
A second couple, Ray and Victoria Hubert, each received $720,000 and their daughter was awarded $50,000. The two families sued the Texas- based Cabot back in 2009, claiming their water was contaminated as a result of natural gas drilling.
The verdict comes at the end of a long-running federal case that pitted Dimock homeowners against Cabot, one of the largest gas drillers in Pennsylvania. State regulators blamed faulty gas wells drilled by the company for leaking combustible methane into Dimock's groundwater. The company argued the methane was occurring naturally.
More than 40 families have sued Cabot since they began fracking to extract natural gas from underground shale formations near Dimock in 2008. The other families settled with the company in 2012. The plight of families in Dimock was featured in 'Gasland,' the Emmy-winning 2010 documentary by Josh Fox.
The Elys were originally offered more than $150,000 and the Huberts $50,000, but they chose to press the case, believing the offers did not match the struggles they had been dealing with.
"It's been a battle," Scott Ely told WNEP before the jury verdict. "I mean, you're up against a multi-multi-multi-million dollar company. And you've seen the litigation team they had. I mean, they're sitting there with six attorneys on their side. They had quite the team."
During the two-day deliberations, jurors asked the judge for any guidance on how they might determine a dollar amount for damages in the case.
Cabot said the jury's decision "disregards overwhelming scientific and factual evidence" that it conducted itself properly in the small village of Dimock. There was no evidence linking contamination of the families' wells to their tracking operations, the company said.
"Cabot will be filing motions with the court to set the verdict aside based on the lack of evidence as well as conduct of plaintiff's counsel calculated to deprive Cabot of a fair trial," Cabot spokesman George Stark told Reuters.
You can share this story on social media: