Cop who killed dog entitled to $45k in back pay – judge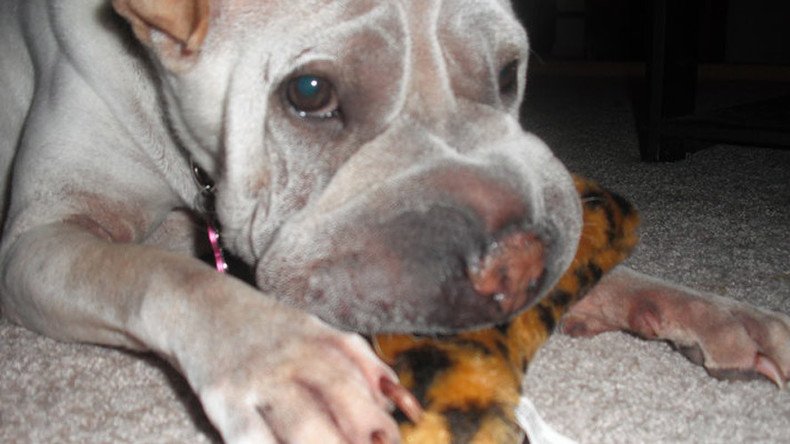 A Baltimore, Maryland police officer will receive $45,000 in back pay from the city after being suspended for slitting a dog's throat. The officer was found not criminally responsible for the dog's death and is owed wages for 10 months of the suspension.
Baltimore Circuit Judge Melissa M. Phinn ruled last November that the prosecution failed to prove Officer Jeffrey G. Bolger was criminally responsible for killing Nala, a 7-year-old Shar-Pei. As a result, Bolger is entitled to receive compensation from his suspension period, which lasted from June 2014 to March 2015. Bolger's attorney said that the officer retired in 2015 to work elsewhere and it was unlikely that he would try to rejoin the force.
In June 2014, Bolger and other Baltimore police officers were summoned after a dog escaped from its yard and lightly bit Sandy Fleischer, a nearby resident. Fleischer did not blame the dog.
"The dog was more scared of not knowing where it was and being thirsty and disoriented. The dog bit me out of fear because I tried to touch it, which was my fault," she told WBAL-TV. The dog was not aggressive, she added.
The officers faced charges of animal cruelty against Nala. Fleischer has claimed that the officers mistreated the dog before killing her.
"One police officer said, 'Let's get the noose on the dog,' and you could see the police officer twisting and hurting the dog, bringing it to the ground to the point where the dog's face is on the ground. You could hear the dog screaming and crying in pain," she said. "I did see one officer that had been extremely aggressive that did have his knee into her chest that was tightening the noose. It seemed (they were doing it) relentlessly and unnecessarily."
However, Bolger's attorney, Steve Levin, told US News that the "noose" – the dog control pole used by animal control to restrain and corral animals – was most likely what killed Nala. Levin explained that it took three attempts to corral Nala and that she was no longer moving on the third try. Bolger then made an incision to the dog's throat and claimed it did not produce much blood, a sign that her heart was not beating.
Fellow police officers were alarmed by the killing. Deputy Commissioner Dean Palmere told US News that the killing was "outrageous and unacceptable." Then-deputy commissioner Jerry Rodriguez added that there were "no procedures or training that justifies this behavior."
You can share this story on social media: