Firefighters battle massive hours-long fire at Chicago flea market
Published time: 8 Mar, 2016 17:05
Edited time: 8 Mar, 2016 20:57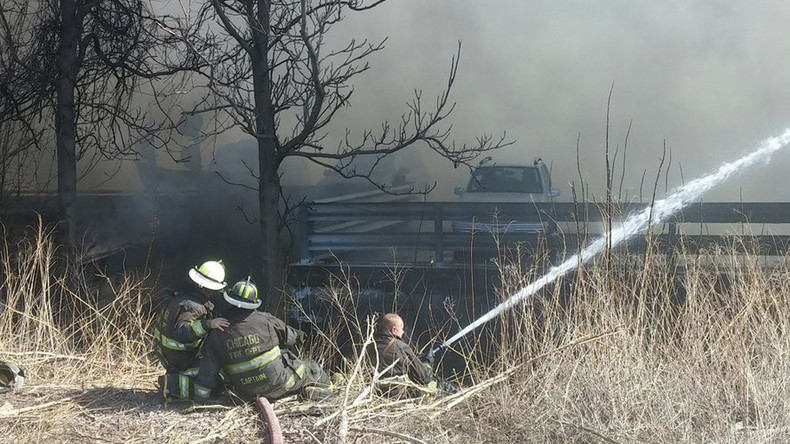 Emergency crews are responding to a four-alarm fire at a flea market in Chicago's West Humbolt Park neighborhood. The fire has been raging for more than four hours.
Officials say that people were trapped in the northwest of the building, according to Chicago Fire Media. In addition to firefighting crews, ambulances could be seen arriving at the blaze.
Cars fell through the building's roof deck when it collapsed. The thickest plumes of black smoke could be seen rising from the hole left by the collapse.
The building is home to Buyers Flea Market. A sign that on the building claimed the flea market is "Chicagoland's largest" could be seen being engulfed by flames, according to NBC Chicago.
No injuries have been reported so far.
The fire broke out about 9:45 a.m. local time at the two block-long building at 4540 W Division St, authorities said.
Most firefighting crews were ordered out of the blaze as they shifted to a strategy to contain the fire.
As of 1:15 p.m., authorities said that the fire was still not under control. The entirety of the flea market building was expected to be lost in the blaze.
Buyers Flea Market is a family-owned business that hosts hundreds of merchants in its indoor market space, according to the company's website. Vendors at the market sell food, clothing and even used cars, and some opt to use outdoor space adjacent to its building.
The flea market was not open Tuesday, when the blaze hit.