Hitler's personal copy of Mein Kampf to be auctioned in Maryland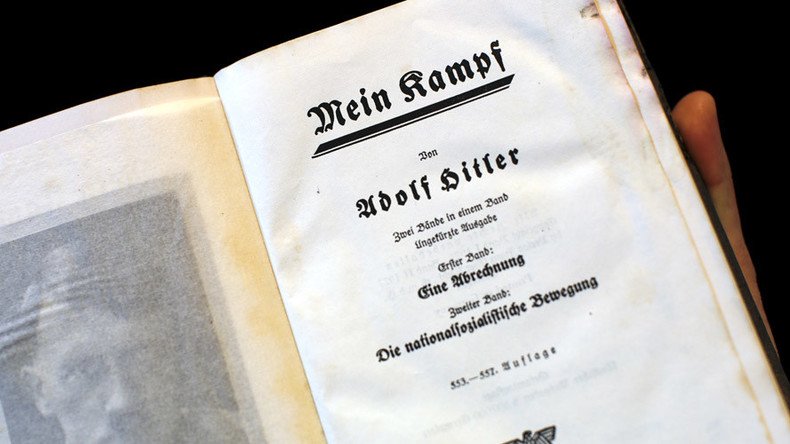 Adolf Hitler's personal copy of Mein Kampf, found by US officers in his Munich flat in May 1945, will be auctioned off in Maryland along with other Nazi-era artifacts. The inflammatory diatribe was never banned in the US and can be bought in bookshops.
Alexander Historical Auctions in Maryland will open up bidding on the 1927 edition of Adolf Hitler's Nazi manifesto for March 17 and 18.
"This edition of 'Mein Kampf,' volume II, was published by official N.S.D.A.P. publishers Verlag Franz Eher in Munich, 1927 … in a finely-grained red leather cover with four raised hubs on the spine," the auction's listing says. "It is a rare edition of the work, not available to the general public, and was likely kept by Hitler for his own use or as a potential gift for an admirer."
The book was originally found by 11 US officers of a field artillery battalion of the 45th Infantry Division in Hitler's Munich flat following his death in April 1945, and it remained in the possession of one of the officers' daughters until last year.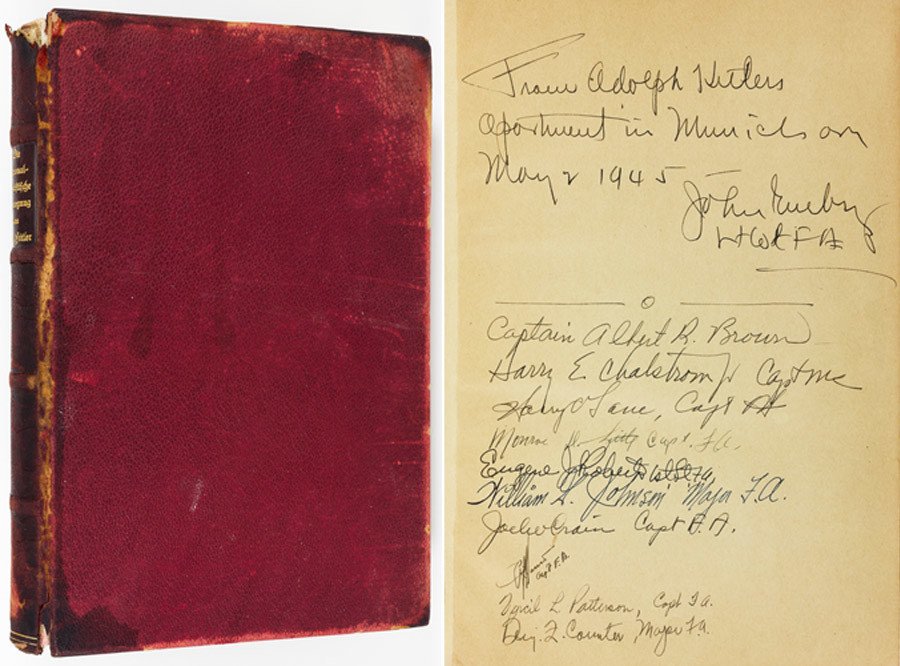 One of the officers wrote on the front page of the book: "From Adolph Hitlers [sic] apartment in Munich on May 2 1945."
The book, in which Hitler outlined his vision of the "thousand-year Reich" and also policy of exterminating whole peoples in Europe, is on sale at $12,000-15,000.
Except the Mein Kampf copy, several other artifacts are to be auctioned off, including Hitler's dessert forks and plates as well as personal cocktail and water glasses. Letters and notes by SS chiefs Heinrich Himmler and Reinhard Heydrich, the main architects of the Holocaust, are on sale as well.
Countries across the world have different policies on the book's availability. In Germany, with its Nazi and militarist past in mind, Hitler's diatribe was not published or sold until January 2016, when the state of Bavaria removed a 70-year copyright on the book. The new, "heavily annotated" version of Mein Kampf – republished by the Munich-based Institute for Contemporary History – hit German bookstores shortly afterwards, having sold out within hours on the Amazon website.
In the United States, Mein Kampf can be found at many community libraries and can be bought, sold or traded in bookshops. The US government seized the copyright in September 1942 during World War II under wartime laws, and in 1979 Houghton Mifflin, the US publisher of the book, bought the rights from the government.
Russia outlawed the book in 2010 following numerous public requests on grounds of extremism dissemination.
You can share this story on social media: