No more AngryCops: Officer suspended over social media videos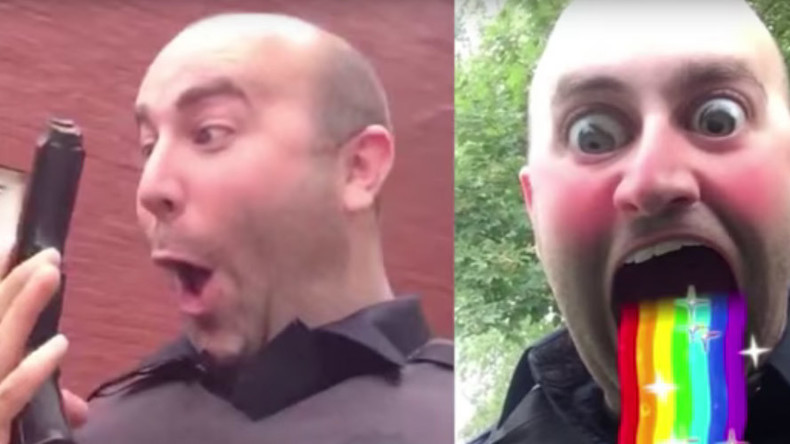 A Buffalo, New York police officer is on an unpaid suspension due to his popular Vine and Instagram accounts. Richard Hy, better known as AngryCops, gained popularity for his off-color comedy video about police life – but his superiors aren't laughing.
Hy is a three-year veteran of the Buffalo Police Department and began using his accounts only a few months into the job, New York Daily News reports. While Buffalo PD does not discourage their officers from using social media, they do not allow them to appear in uniform.
Hy's uniform and nametag are visible in several seven-second sketches. Although many videos were removed from Hy's accounts, some have found their way to other news sources and YouTube.
Hy claims that the uniform and badge he used in the videos are fake, but intentionally used his last name.
"My last name is hysterical," he said to the Daily News. "My last name is Hy and I'm a cop. Come on."
In one video, Hy is seen with white powder on his face as well as a bag he's holding. "I just took a bunch of coke from the evidence locker!" he exclaims.
WIVB found another video where he sings "Dashing your parole, with a one gun crack arrest, throw you in a cell," to the tune of 'Jingle Bells' – while wearing a Buffalo PD jacket.
Sources close to the Buffalo PD told the Daily News that Hy's suspension did not come out of the blue. He has reportedly been warned about the videos three times already.
Hy's friend Matthew Milewski has set up a GoFundMe page for the suspended officer. Milewski told RT via Facebook messenger that he started the campaign to help because, "[Hy] is a good friend and when I heard that he was suspended without pay I was [needless] to say confused."
According to Milewski, Hy is serving a 30-day unpaid suspension. "Hy has served his County and choose to serve and protect this city. He wants to put this behind him and move forward," Milewski told RT.
"There are far more issues at hand in any major city that could use the type of attention that Hy is receiving," he added.
So far, the campaign has raised $1,775, more than double the original goal of $800. However, the money raised by Milewski's fund drive will go to the Fallen Officer Foundation, as per Hy's request.