'Cold War crumbling': Nancy Reagan dies at 94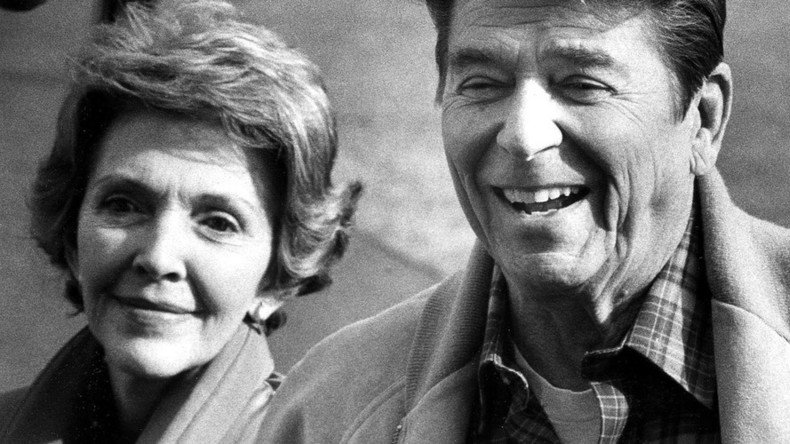 Nancy Reagan, wife of the 40th US president, Ronald Reagan, died on Sunday morning at her home in Los Angeles at the age of 94. Known as both "Queen Nancy" and "dragon lady", she greeted USSR leader Mikhail Gorbachev and his wife during their historic visit to the White House in 1987.
"She played a strong role in her husband's presidency, including ending the Cold War," said K.T. McFarland, who served as a deputy assistant secretary of defense in the White House while Ronald Reagan was in power.
"Mrs Reagan will be buried at the Ronald Reagan Presidential Library in Simi Valley, California, next to her husband, Ronald Wilson Reagan, who died on June 5, 2004," her representative Joanne Drake wrote in a statement. The cause of death was congestive heart failure.
Nancy Reagan was born in New York City on July 6, 1921. She was an actress when she met Ronald Reagan in 1951. He had been an actor and president of the Screen Actors Guild at that time.
"My life began with Ronnie," Nancy Reagan told Vanity Fair magazine in 1998.
Ronald and Nancy Reagan got married in 1952 and had two children – Patti Davis, an actress, and Ron Jr., who pursued careers in ballet and television. Their marriage lasted 52 years until his death in 2004.
During her husband's term in the White House and in the years that followed she was also Reagan's closest adviser. She lived through the early years of the Cold War, was blacklisted by Hollywood for alleged communist views, managed eight years in the White House, helped her husband survive through an assassination attempt and endured his nearly decade-long battle with Alzheimer's.
"I miss him now more than I ever did. I'm lonely because I don't have him," she told CNN's Larry King in June 2007.
Nancy Reagan was also a prominent social campaigner, known for her 'Just Say No' campaign to combat drug abuse in the 1980s, advocating for lifting restrictions on stem cell research and promoting better treatment of America's veterans.
From 'Queen Nancy' to 'dragon lady'
During her time in the White House, Mrs. Reagan's perfectionism led the residence staff to consider her not easy to work for, with tirades following what she deemed as mistakes. One staffer later recalled, "I remember hearing her call for her personal maid one day and it scared the dickens out of me – just her tone. I never wanted to be on the wrong side of her."
When she went to live at the White House in 1981, the former Hollywood actress gave off an impression of a simple-minded woman concerned only with fashion and decorum, inspiring a mocking moniker "Queen Nancy". Yet by the time she moved out two terms later, Nancy Reagan was addressed to as "dragon lady" behind her back and surrounded by accusations that she was a behind-the-scenes head of state, with unlimited power over her husband's administration.
She was often at loggerheads with President Reagan's chief of staff, Donald Regan, who berated her in his 1988 book after being ousted from the White House during the Iran-Contra scandal in 1987. He claimed that she had used astrology to decide the timing of presidential speeches and trips.
Nancy Reagan always maintained that her only mission was to back her "Ronnie" and strengthen his presidency, although acknowledging the fact that she had the ear of her husband.
"In most good marriages that I know of, the woman is her husband's closest friend and adviser," she wrote in 'My Turn', her 1989 memoir. "But however the first lady fits in, she has a unique and important role to play in looking after her husband. And it's only natural that she'll let him know what she thinks. I always did that for Ronnie and I always will."
Breaking the ice with the USSR
In the White House, Ronald Reagan initially referred to the Soviet Union as "the evil empire," and had no interest in improving relations with the Soviets – or engaging in nuclear-arms reduction. But this was to change when Mikhail Gorbachev became the General Secretary.
The ice first broke at the summit in Geneva in 1985. Two years later, Gorbachev became the first Soviet leader to visit Washington, D.C., since Nikita Khrushchev almost three decades prior. At that point – and with the help of Nancy, quietly conspiring with the pragmatists in her husband's administration to fix Soviet-American relations, President Reagan saw the benefits of opening a dialogue with the Soviet Union, and his wife was thrilled with an opportunity to end the standoff between the two nations.
"Nancy believed this was her husband's destiny. A man of his age who had lived through two world wars would be the one to break the deadlock of the Cold War," Mrs. Reagan's longtime loyalist and White House image impresario, the late Michael Deaver said in Kati Marton's 'Hidden Power: Presidential Marriages That Shaped Our Recent History'.
Nancy Reagan was naturally in charge of planning and hosting the highly anticipated state dinner, the aim being to impress both the Soviet leader and his wife Raisa.
After dinner, Nancy had pianist Van Cliburn play a rendition of "Moscow Nights" for the Soviet delegation, prompting both Mikhail and Raisa to break out into song. Commenting on the evening, former Secretary of State George Shultz said: "We felt the ice of the Cold War crumbling."
As for Mrs. Reagan, she said that "it was a perfect ending for one of the great evenings of my husband's presidency."
The two leaders met several times, each meeting bringing them closer. Their meetings resulted in several historic documents, including the one on nuclear arsenals reduction (the Intermediate-Range Nuclear Forces Treaty) in 1987.
''History has charged the Governments of our countries, and the two of us, Mr. President, with a solemn duty to justify the hopes of Americans and Soviet people, and of people the world over, to undo the logic of the arms race by working together in good faith," Mikhail Gorbachev summed the aura and significance of the summit meeting and the treaty it resulted in.
When the Reagans returned the visit, traveling to Moscow in 1988, yet another agreement was signed - on advance notification of Intercontinental Ballistic Missiles and Submarine-Launched Ballistic Missiles launches.
The two leaders shared a warm relationship ever since. Despite much speculation in the media at the time that their respective first ladies were on cooler terms, years later Reagans would express their sincere grief on the news of Raisa Gorbachev's death.
"We are shocked and deeply saddened by the death of Raisa Gorbachev," a statement released by the former first lady on behalf of herself and her husband said. "We have always enjoyed Raisa and Mikhail's company. We believe that Raisa was a strong partner with her husband and an important voice in the friendship that our two countries established in the 1980s".
In her final years, Nancy Reagan lived quietly in California, spending time with old friends and devoting her energy to advocate for stem-cell research.
Michael Deaver once said that, "without Nancy, there would have been no Governor Reagan, no President Reagan."
After the news of Nancy Reagan's death, politicians and public figures were quick to offer their condolences to her family and honor the legacy of the former first lady on social media.
You can share this story on social media: