NYC mayor praises gun seizures as 'less deadly' knife attack increase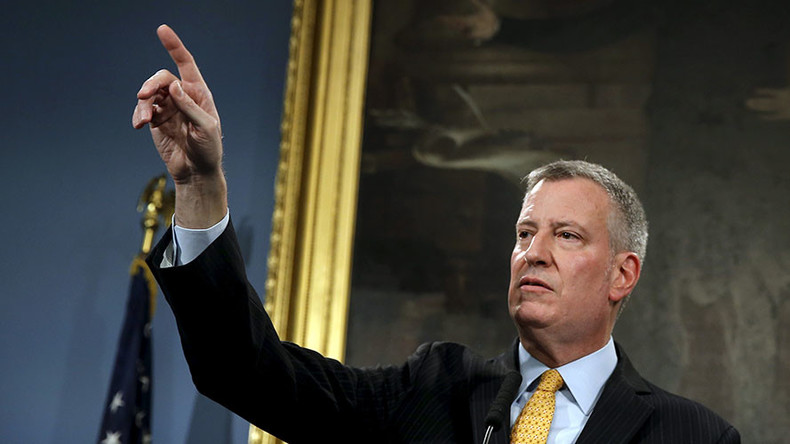 While praising the New York City Police Department for taking guns off the streets, Mayor Bill de Blasio has suggested this success may be responsible for a 20 percent surge of "less deadly" slashing and stabbing attacks in the Big Apple.
"I'm not a criminologist, but I can safely say that guns are being taken off the street in an unprecedented way," de Blasio said at an event in Manhattan, praising the work of the NYPD's Gun Violence Suppression Unit.
While shootings and murders have declined to historic lows, crimes such as robbery, assault and theft are on the rise, and rapes were up 26 percent in February, according to WCBS. Knife attacks are also on the rise.
"Some people, unfortunately, are turning to a different weapon – thank God, typically a less deadly weapon – but they're turning to a different weapon," the mayor said. "Well, guess what that means. The NYPD will now go get those weapons."
New York law enforcement will now focus on criminals using knives and razors.
"There's no question: we don't take knives lightly, we don't take razors lightly," de Blasio said.
The number of slashings and stabbings across the city is up over 20 percent this year compared to the same period in 2015. Since January 1, officers have confiscated 212 cutting instruments in the subways – a 46 percent increase over last year, WCBS reported.
Yet, despite the surge, NYPD Commissioner Bill Bratton said in February that the streets of New York are "safer than ever."
Following a series of slashings on the New York City subway, the Guardian Angels – an unarmed, volunteer anti-crime group that had its heyday in the 1970s and '80s – has gone underground to patrol the system for the first time since 1994.