Police arrest 4 adults for alleged sex acts with 4-year old children
Published time: 4 Mar, 2016 04:56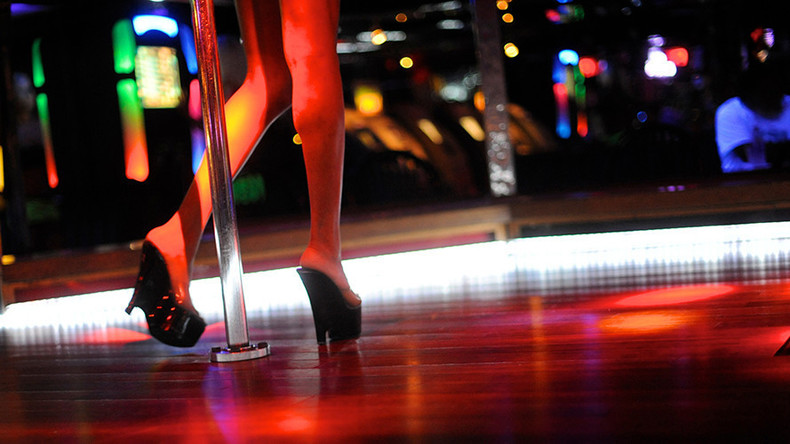 South Carolina police arrested four people after two 4-year-old children disclosed that they had been sexually assaulted at multiple locations over a five month period. One of the locations was a Myrtle Beach strip club.
Horry County, South Carolina police made the arrests on Thursday, taking the four adults into custody.
Detectives received a report of sexual assault to children in January and followed up by conducting forensic interviews with the two 4-year-old victims, a boy and a girl, according to WMBF News.
The arrest warrant alleged that between December 2014 and April 2015, the four adults allegedly engaged in sex acts, including intercourse, with the two victims over a five month period in multiple locations.
The suspects are Lindsey Honeycutt, 29, Ambrose Heavener, 30, Panteleimon Spirakis, 55 and Anthony Strickland, 45. Honeycutt was the mother of the children.
The criminal discovery was made when the children, during trauma-focused therapy sessions, mentioned the sexual assault. Later under questioning with detectives, both victims said their parents "force them to have sex with their siblings and each other," according to police reports.
They also said that Honeycutt and Heavener, another family member, had sex with them, and the female victim was forced to have sex with Spirakis, a convicted child molester.
The victims also revealed one of the locations of the sexual assaults was "the dance club" which was later identified as Chez Joey, a strip club in Myrtle Beach, where Honeycutt worked as a dancer. Assaults also occurred at two homes in Myrtle Beach.
The children have been placed with a guardian by the North Carolina Department of Social Services, Lt. Mark Bonner said, according to Myrtle Beach online.
Honeycutt and Heavener are charged with criminal sexual conduct with minor in the first degree, sexual exploitation of a minor in the first degree, engaging a child for sexual performance and incest.
Spirakis and Strickland are charged with criminal sexual conduct with minor in the first degree, sexual exploitation of a minor in the first degree, and engaging a child for sexual performance.
One of the suspects, Spirakis, was previously arrested and charged in 2008 for allegedly molesting an 11-year old girl for three years. According to a police report, the man fondled the girl and had threatened her with a knife at one point. In the report, the victim says the man also videotaped her, and kept it in a safe at his residence. In that incident, he was sentenced to five years in prison in 2010 but the sentence was suspended to two years and five years on probation, according to court records.
News stories at the time also said Spirakis was under investigation for another claim of assault.
The suspects are scheduled to appear at a bond hearing on Friday.