Hundreds of protesters rally outside Republican debate in Detroit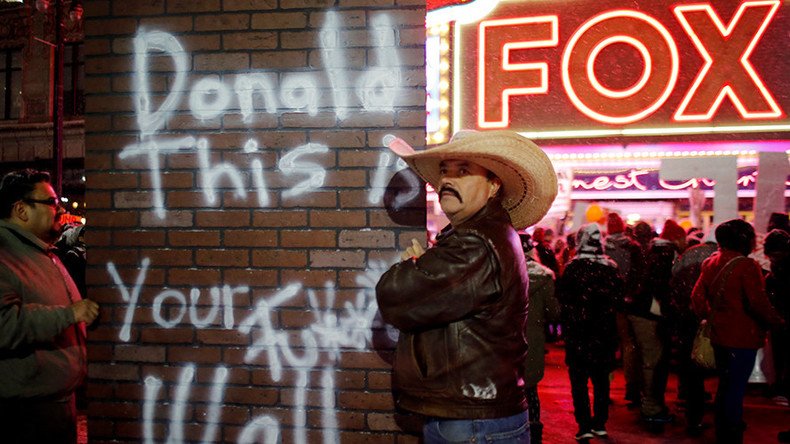 Despite the all-day snow, protesters gathered in the hundreds outside the Fox Theatre in Detroit, Michigan several hours prior to the Republican debate to make their voices heard on the minimum wage, the Flint water crisis, and other issues.
Chanting "Can't take no more," protesters made their way right to the front of the historic Fox Theatre.
Others called for Michigan Governor Rick Snyder's arrest.
"Flint Lives Matter" signs were also part of the protest scene, expressing anger at the slowness of government to remedy the public health crisis.
"You want our vote? Come get our vote!" demanded a group demanding a $15 minimum wage.
Yet another controversial issue was Republican front runner Donald Trump's campaign promise to build a border wall.
"Donald, this is your fu****g wall. Send me the bill," a protester's makeshift panel read.
Hassan Sheikh of the Michigan Muslim Community Council was there to protest what he saw as the Republican Party's racism.
"We're here today protesting the hateful rhetoric that has been spewed by this Republican Party, particularly Donald Trump," Sheikh told Detroit News. "We've seen a rise in hate crimes. We've seen a rise in people being empowered to spew out hateful mindsets. And this is not good for the nation. We live in the greatest nation on earth, and we have to do everything we can to keep it that way."
Eventually, horse-mounted police cleared the pandemonium away from the entrance of the debate venue.
You can share this story on social media: