'All we get is a lousy hat': Mitt Romney blasts Donald Trump's career & candidacy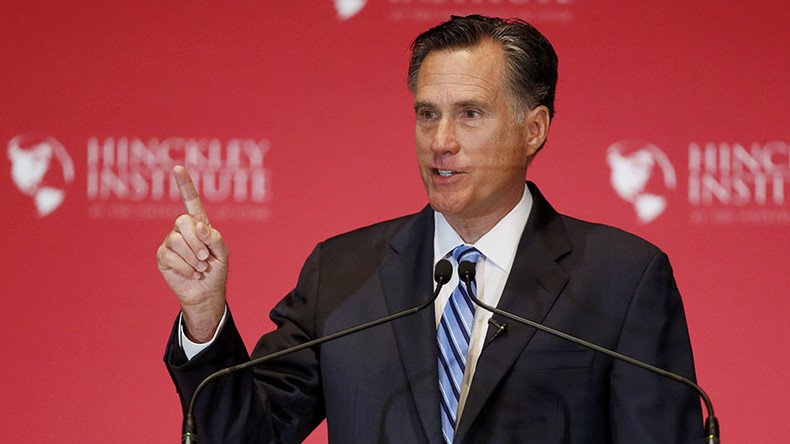 Former Republican presidential nominee Mitt Romney called on his party to disavow its frontrunner Donald Trump in a scorching rebuke of the candidate – from the way Trump is running his campaign to his business, political and personal history.
Speaking at the Hinckley Institute at the University of Utah, the former Massachusetts governor said that America's prospects for a safe future are "greatly diminished" if Donald Trump becomes the Republican nominee for president.
"His is not the temperament of a stable, thoughtful leader. His imagination must not be married to real power," Romney said, branding Trump "a phony, a fraud" whose "promises are as worthless as a degree from Trump University."
"He's playing the American public for suckers: He gets a free ride to the White House and all we get is a lousy hat," Romney added.
Along with blasting Trump's personality, he outlined how the billionaire businessman's policies will destroy the US.
"A few examples: His proposed 35 percent tariff-like penalties would instigate a trade war, and that would raise prices for consumers, kill our export jobs, and lead entrepreneurs and businesses of all stripes to flee America," Romney said. "His tax plan, in combination with his refusal to reform entitlements and to honestly address spending, would balloon the deficit and national debt."
The former Massachusetts governor addressed Trump's multiple divorces and boasts of extramarital affairs, bankruptcy filings and failed business plans: "A business genius, he is not," Romney said.
The 2012 GOP presidential candidate urged his party to vote for any of Trump's rivals for the nomination.
"The only serious policy proposals that deal with the broad range of national challenges we confront today, come from Ted Cruz, Marco Rubio, and John Kasich," Romney said. "One of these men should be our nominee."
Knowing that Romney's attack was coming, Trump launched a preemptive strike on Twitter, calling the former GOP nominee a "failed candidate… who ran one of the worst races in presidential history."
Trump also tweeted that Romney had begged for his endorsement in 2012.
After Romney received Trump's endorsement, he praised Trump for his economic prowess.
Trump also posted an attack video targeting Romney and accusing him of flip-flopping on his Facebook page on Wednesday.
The speech was seen as a call to action for GOP voters to repudiate their preferred candidate, with Romney saying that nominating Trump "enables her victory," referring to Democratic frontrunner Hillary Clinton, whom he called "untrustworthy and dishonest."
"Mitt Romney is trying to wake up the Republican Party and he did it with the most scathing autopsy we've heard [of Trump] to date," RT's Ed Schultz said.
LISTEN MORE:
You can share this story on social media: