SMS suicide: Teen on trial for pressuring boyfriend to kill himself via text
Published time: 2 Mar, 2016 19:06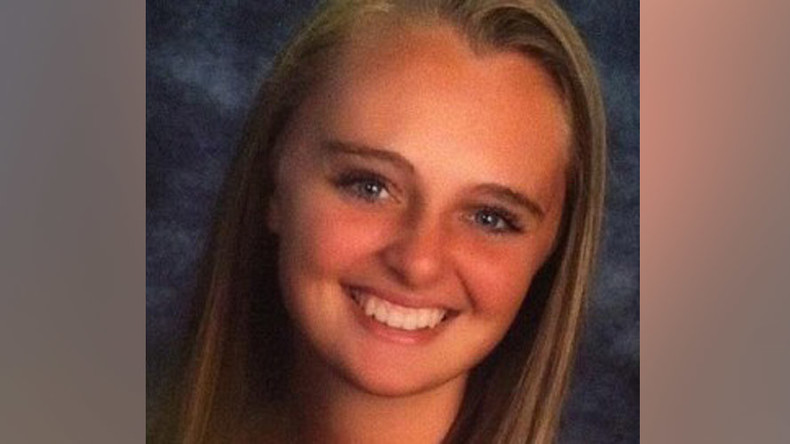 A US teenager faces involuntary manslaughter charges in Massachusetts, accused of sending text messages to her boyfriend and persuading him to commit suicide.
Michelle Carter was 17 when, in 2014, her boyfriend Conrad Roy was found dead in a Kmart parking lot from carbon monoxide poisoning.
Earlier that day, he had been walking on the beach with his mother who said he was distracted by his phone, the trial revealed.
A message from Carter found on his phone read, "When you get back from the beach you've gotta go do it. You're ready. You're determined. It's the best time to do it."
The message was one of hundreds on Roy's phone from Carter encouraging him to take his life, including one asking him to delete the thread of messages before he committed suicide to ensure police would not question her.
Carter and Roy met a few years earlier through family connections and, despite living an hour from each other kept in regular contact, mainly online and via text messages.
Both teens suffered from mental health issues and admitted to suicidal thoughts.
Roy struggled with extreme social anxiety and depression. A year before his death, he was hospitalized after overdosing on acetaminophen.
Carter's lawyers confirmed she also struggled with mental illness and spent time in a psychiatric treatment center affiliated with Harvard University.
No details were given on why she was admitted.
In messages found on Roy's phone, Carter appears to push the topic of suicide onto him.
Roy: How was your day?
Carter: When are you doing it? … :) My day was okay. How was yours?
Roy: Good.
Carter: Really?
Roy: Yes.
Carter: That's great. What did you do?
Roy: Ended up going to work for a little bit and then just looked stuff up.
Carter: When are you gonna do it? Stop ignoring the question. ????
When Roy told Carter he did not own a generator to poison himself, Carter wrote "GO GET ONE".
When he raised concerns about his family, she said: "They will move on for you because they know that's what you would have wanted. hey know you wouldn't want them to be sad and depressed and be angry and guilty. They know you want them to live their lives and be happy. So they will for you. You're right. You need to stop thinking about this and just do it."
After his death, Roy's mother received texts from Carter's phone encouraging her and saying she tried her hardest to save him.
In a text to a friend from Carter, she said, "His death is my fault. Like, honestly I could have stopped it. I was the one on the phone with him and he got out of the car because [it] was working and he got scared and I fucken told him to get back in … because I knew that he would do it all over again the next day and I couldn't have him live the way he was living anymore."
Carter's defense is arguing that the text messages do not tell the whole story and that Carter was a confused teenage girl struggling to help her severely depressed boyfriend.
Her lawyer Joseph P Cataldo told NYMag that it was only towards the end that Carter started encouraging Roy. Before then, he said, she had encouraged him to seek help.