Legal dispute forces Yosemite to rename famous landmarks
Published time: 2 Mar, 2016 17:25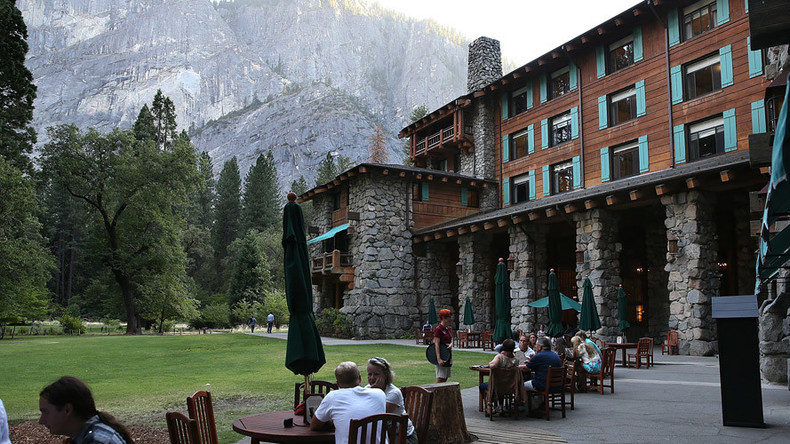 Yosemite National Park is set to change the names of some of its most iconic attractions due to a bitter dispute between the government and the company operating the park.
On Tuesday, the historic Ahwahnee Hotel, a national landmark built in 1927, became the Majestic Yosemite Hotel. Others park locations affected by the changes include Curry Village campground, which was renamed Half Dome Village, and Badger Pass Ski Resort, now known as Yosemite Ski and Snowboard Area.
The changes were prompted by the park's operator, Delaware North, who managed Yosemite from 1993 until 11:59pm on Monday, when control was handed over to their competitor, Aramark.
Delaware North is claiming the rights to notable sites around the park such as the Ahwahnee, as well as the park's trademark itself. This means that merchandise reading "Yosemite National Park" will be removed from shelves, to be replaced by souvenirs bearing simply the name "Yosemite" instead.
The court battle began in September, when Delaware North lost its lucrative contract and sued the National Park Service over ownership of the trademarks. The Park Service valued the trademarks at $3.5 million, but Delaware North priced them at $51 million, according to AP.
Neither side reached what they believed was a just settlement, so the Park Service was compelled to change the names from those that Delaware North owns.
"While it is unfortunate that we must take this action, changing the names of these facilities will help us provide seamless service to the American public during the transition to the new concessioner," park superintendent Don Neubacher said in a statement. "This action will not affect the historic status of the facilities, as they are still important cultural icons to the National Park Service and the public. Our stewardship of these properties is unwavering."
The changing of names might not seem like a big deal to the average person, but to longtime lovers of Yosemite, which brought in 4.3 million visitors in 2015, it is a nostalgic and sentimental issue.
You'll always be the Ahwahnee to me.

— Sean Downes (@SeanIsOutside) March 2, 2016
Before the Ahwahnee's iconic wooden sign could be updated or replaced, however, someone decided to steal it as the ultimate souvenir. Yosemite spokesman Scott Gediman said that it was taken Saturday night or Sunday morning, and that the theft is being investigated as a federal offense.
"We feel strongly that these iconic facilities, and their historic names, ultimately belong to the American people," Gediman said. "But with open litigation, these name changes are necessary to continue service without disruption.".