Bin Laden warned about savage ISIS violence, concerned about climate change & wife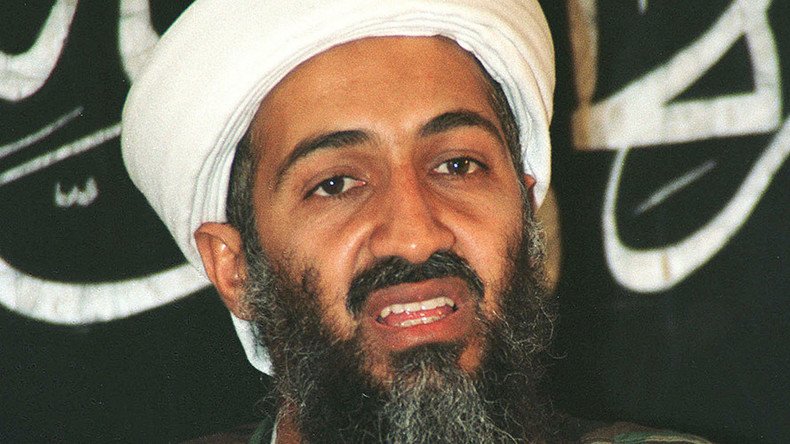 Osama Bin Laden was warned about the brutal violence the early Islamic State terror group was inflicting on other Muslims before the group ever officially left Al-Qaeda, personal documents that were released on Tuesday indicate.
Officially released Tuesday by the Office of the Director of National Intelligence, the documents reveal new details about the final years of the Al-Qaeda leader, including that he left millions of dollars to the cause of "jihad" while his organization fractured in other nations. The documents were obtained by the US during the deadly 2011 raid in Pakistan that ended with Bin Laden being killed.
While the Al-Qaeda in Iraq group officially separated from Al-Qaeda in 2014 and declared itself Islamic State (IS, formerly ISIS/ISIL), the letters reveal that Bin Laden had been told of the group's brutal tactics against Muslims years beforehand.
In one case, letter writer Abu al-Abbas wrote to Bin Laden to say that the group in Iraq was no longer answering to Al-Qaeda, and that it was targeting Muslims it accused of not waging jihad.
Specifically, Abbas said the group – which was already referring to itself as "the State" – was stealing land and vehicles from other Muslims, torturing them based on suspicion, and murdering rival groups who were fighting Americans.
Despite these warnings, Bin Laden seemed dismissive of the allegations.
"This thing [torture] happens a lot in the fields of jihad in general," he wrote. "Perhaps [you are] relying on certain storytellers, whom you think are reliable but they aren't."
At the same time, the Al-Qaeda leader felt the need to issue a directive calling on his militants to avoid fighting with other groups who were battling the US.
"We are ordering you to stay away from anyone who is fighting the crusaders during this phase, regardless of whether they are atheists, secular Ba'athists, or infidels," he wrote.
Osama the climate change activist
Bin Laden appeared to be more concerned about the environment. In one document Bin Laden is directly addressing the American people after President Barack Obama was elected. He railed against corporations and lobbyists, who he blamed for "economic loss," and said Americans needed to undertake "a great revolution for freedom" so that Obama could make "a rational decision to save humanity from the harmful gases that threaten its destiny."
Another letter featured a writer purported to be Bin Laden arguing that "the world should put its efforts into attempting to reduce the release of gases."
"This is a struggle between two of the largest cultures on Earth, and it is in the shadow of catastrophic climate conditions."
Bin Laden left millions in his will for 'jihad'
In another document purported to be Bin Laden's will, the terrorist leader stated that he left behind $29 million for his family to spend on jihad.
"I hope, for my brothers, sisters, and maternal aunts, to obey my will and to spend all the money that I have left in Sudan on Jihad, for the sake of Allah," he wrote.
According to the BBC, it's not known whether his family actually saw any of the money, which Bin Laden claimed was in Sudan.
In other files, Bin Laden seemed to believe that Al-Qaeda was winning the battle in Afghanistan.
"Here we are in the 10th year of the war, and America and its allies are still chasing a mirage, lost at sea without a beach," he wrote.
"America appears to be hanging on by a thin thread. Due to the financial difficulties," he wrote. "We need to be patient a bit longer. With patience, there is victory!"
Bin Laden worried his wife had surveillance implant
In one of the more paranoid documents, Bin Laden wrote to a wife of his stating his concern over the possibility that an Iranian dentist planted a "small chip" tracking device into her skin or teeth. He said the dentist would have used a syringe with a slightly larger head to insert the implant "the length of a grain of wheat and the width of a fine piece of vermicelli."
"I need to know the date you had the filling, also about any surgery you had, even if it was only a quick pinch," he wrote. "If you cannot remember the date, it is fine to give me an approximation."
You can share this story on social media: