Police clash with protesters after teen shot by cop in Salt Lake City
Published time: 28 Feb, 2016 04:02
Edited time: 20 Dec, 2016 16:51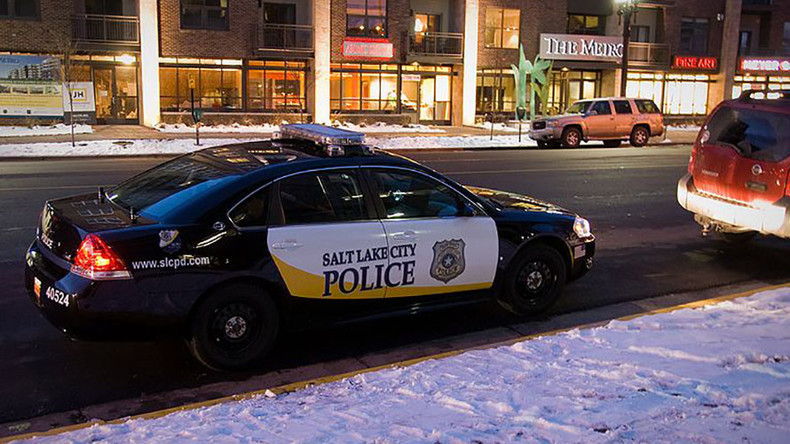 Riot police were trying to disperse angry crowds throwing glass and rocks following an officer-involved shooting in downtown Salt Lake City. A 16 year-old was shot four times by intervening police after an altercation with another man. Witnesses say excessive force was used.
Shots were fired in the Rio Grande St. area of Salt Lake city on Saturday night, police said. According to reports, the shooting involved two police officers. The current condition of the teenager is unknown. He has been taken to a local hospital.
Salt Lake Police detective Greg Wilking told KSL: "There was an altercation taking place, and our officers intervened into that altercation.
"It was a very active scene for the officers involved down there... They needed other officers to respond. Very upset...people are emotional right now."
KSL TV reporter Sandra Yi tweeted that a crowd of people had gathered at the scene and started yelling: "They shot an innocent kid," referring to police.
"Witness says officers shot a 16yo kid. He says the teen had a metal pipe. He heard 4 gunshots," Yi said on her Twitter account. But the young man's friend says he was armed only with part of a broom stick.
Of the two officers who arrived to deal with the initial incident, at least one fired shots, it is being reported.
Witnesses felt the police did not give the teen a chance to surrender, and used excessive force, leading to public outrage. The friend, Mohammad, told the Salt Lake Tribune, "They told him to put it down, once," - referring to the broom - and "started shooting him as soon as he turned around."
He added that his friend was hit in the chest and stomach.
Police said that up to 100 officers were on the scene to deal with the angry crowd that has gathered in response to the shooting. Several officers were reportedly injured by the rocks and glass the crowd threw.
Traffic in the area has been disrupted and a warning has been issued urging the public to avoid the area. Police have sealed four blocks around the Gateway Mall for the next several hours.
Local media have said that multiple suspects have been taken into custody.
"Cops here are tense, extremely tense. Large crowds gathered, I've counted 5 in police custody," KUTV2 News reporter Jeremy Harris tweeted.
Fox 13 first heard reports of a shooting at around 8pm, though it wasn't until 10 that police had reported the incident involved an officer.