Liar! Liar! - Republican debate descends into battle of insults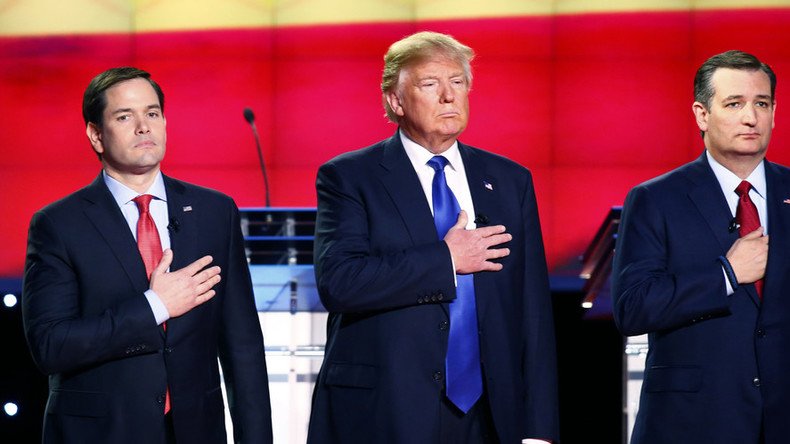 The final Republican presidential debate before primary voters in 11 states cast their ballots on Super Tuesday dissolved into an unseemly brawl in which candidates competed with each other to be the loudest and sling the most insults at each other.
With an avalanche of putdowns, zingers and crass insults, Senators Ted Cruz and Marco Rubio tag-teamed on Donald Trump to question his conservative values and his character, with Trump returning the favor in the Republican debate held Thursday in Houston, Texas.
Tweets characterized the Republican debate brawl as a fight between light and dark.
Rubio accused Trump of repeating himself.
Trump fought back, battering Cruz with the flawed argument that if he can't beat Hillary Clinton, Cruz certainly won't.
CNN's Wolf Blitzer often struggled to control the debate and it was noticed by the audience.
Feeling left out, Ben Carson said late in the debate, "Can someone attack me!"
On topics of substance - immigration, the economy and foreign policy - the candidates used each topic to take swings at each other.
IMMIGRATION
Rubio attacked the New York real estate billionaire on his shifting policy on immigration and accused him of hiring people from other countries and being fined for worker violations. Trump shot back at Rubio: "I hired tens of thousands of people. You've hired nobody."
Cruz criticized Trump, suggesting he had "discovered the issue of illegal immigration." Both Rubio and Cruz said Trump had to pay a $1 million fine for illegally hiring immigrants. The accusation came from a campaign ad that ran the day of the debate put out by Our Principles, an anti-Trump Super PAC fronted by Katie Packer, a former aide to 2012 GOP nominee Mitt Romney.
"Totally wrong, wrong, wrong," said Trump. "I've hired tens of thousands of people."
OBAMACARE
Cruz insisted on answering the Obamacare question and used it to bludgeon Trump.
He said that Trump likes Planned Parenthood, while he would investigate it and prosecute any infractions. Cruz then accused Trump of "advocating socialized medicine."
Then Cruz brought up a line from a couple debates ago, in which Trump said he would not let people "die on the sidewalk."
Trump stood by his position: "I will not let people die on the streets if I'm president. Let me talk. We're going to have private health care. I am not going to let people die on the streets or the sidewalks of this country, if I am president. You might be fine with it. I'm not fine with it."
FOREIGN POLICY
All the candidates said they supported Israel, while Trump said he would not take sides in seeking peace and was attacked for that.
"As president there is nothing I wouldn't do to bring peace to Israel and its neighbors. It is probably the toughest negotiation in the world. I am pro-Israel. It doesn't do any good to take sides against the neighbors," said Trump. "If I could bring peace it would be one of my greatest achievements."
Cruz retorted, "This is where Donald agrees with Hillary Clinton. ...If I am president I will stand with Israel."
Rubio told Trump: "The position you've taken is an anti-Israel position. I will stand firmly on the side of Israel, the only pro-American, free enterprise democracy in the Middle East. He thinks Palestine is a real estate deal. You can't make a deal with terrorists."
Trump retorted: "Marco is not a negotiator. He will never able to do it. Probably the toughest deal."
He then added: "We're having a lot of fun up here tonight!"
And it's not surprising who was the biggest talker of the debate.
You can share this story on social media: