'Dark Act': Senate to consider bill limiting GMO labeling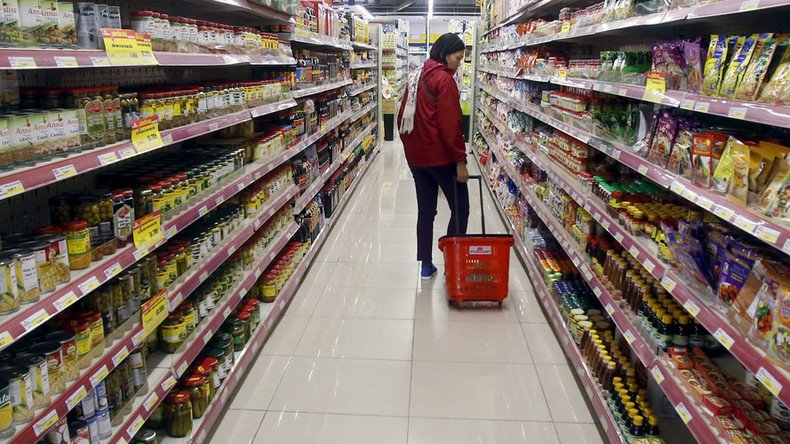 A US Senate committee is considering legislation seeking to prohibit states from issuing their own mandatory labeling laws for food containing genetically modified ingredients, establishing a national voluntary labeling standard for GMO foods instead.
The timing of a proposed federal law on labeling is seen by food safety advocates as a direct attack on state's rights, earning it the nickname, the "Dark Act." To date, three states have passed genetically engineered food labeling laws – Connecticut, Maine, and Vermont.
Rebecca Spector from the Center for Food Safety told RT there has been a lot of pressure on lawmakers to delay the Vermont law.
"The Vermont law goes into effect on July 1 this year," said Spector who is CFS's West Coast Director. "There has been a lot of pressure on lawmakers from companies part of the Grocery Manufacturers Association and individual companies to delay that law so the companies don't have to label. Meanwhile, they are trying to come up with a federal solution that is weaker than the state laws."
The proposed federal legislation is similar to The Safe and Accurate Food Labeling Act of 2015, which passed the House last June, The bill would amend the Agricultural Marketing Act of 1946 to require the Secretary of Agriculture to establish a national voluntary labeling standard for bioengineered foods. The bill was introduced this year by Senator Pat Roberts (R-Kansas), who is chair of the Senate Agriculture, Nutrition & Forestry Committee that is scheduled to discuss the legislation on Tuesday, March 1.
Roberts and his supporters argue that a federal law would override a patchwork of different state laws that make labeling food more complex and costly for food manufacturers.
Iowa Senator Chuck Grassley said laws like Vermont's are intended to hurt biotech products.
"The patchwork of laws discouraging innovative technology and investments won't help the United States feed and fuel a growing world population," Grassley told Brownfield Ag News.
Grassley said he expects all of the Republicans on the committee to support the bill, but says he isn't sure where the Democrats stand.
"It's going to be difficult to get this bill through the United States Senate if it isn't bipartisan."
More than 650 farmers, cooperatives, agribusinesses, processors, seed makers, handlers, food and feed manufacturers, lenders, and retailers signed a letter in support of the bill. The letter urged the US Senate to take quick action "to avoid the economic costs of a patchwork of state laws that will directly impact consumers, farmers, and the entire food value chain."
There are some Democrats, like Senator Debbie Stabenow on the Agriculture Committee, that think a state patchwork of laws will not work. What is not clear is how much backing there is among Democrats for Roberts' bill.
Spector said the so called "Dark Act" would effectively ban the labeling of food containing genetically modified ingredients, despite the fact that 90 percent of Americans want to know if their food contains them.
"The Food and Drug Administration already requires labeling of more than a 1,000 food additives…so consumers think 'why can't we know if our food is genetically engineered," said Spector.
"It is a sneaky way to make Americans, and possibly legislators, think that this is a way to streamline GE labeling laws. The truth is there is no patchwork of state labeling laws. The state laws that passed were all consistent, they all say the same thing, and legislation that has been introduced in other states is consistent as well. So there will not be any patchwork," she added.
Spector said that, every year, about 20 states introduce legislation to label genetically engineered food and many are making it through the legislative process, adding that at least one food company is taking on the responsibility to inform consumers about what their products contain.
"Campbell's recently came out and said they would put labels on their foods that do contain genetically engineered ingredients," remarked Spector. "This shows that this can be done. Campbell's also said this can be done without increased costs to the consumer."
You can share this story on social media: